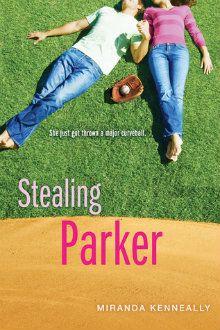 STEALING PARKER
By: Miranda Kenneally
Published By: Sourcebooks Fire
Release Date: Oct. 1, 2012
Series: None
Pages: 245
Genre: Contemporary
Reading Level: Young Adult
Source: ALA
Buy the Book: Amazon
Goodreads Summary: Red-hot author Miranda Kenneally hits one out of the park in this return to Catching Jordan's Hundred Oaks High.

After a scandal rocks their conservative small town, 17-year-old Parker Shelton goes overboard trying to prove that she won't turn out like her mother: a lesbian. The all-star third-baseman quits the softball team, drops 20 pounds and starts making out with guys--a lot. But hitting on the hot new assistant baseball coach might be taking it a step too far...especially when he starts flirting back.
I loved Miranda Kenneally's first book,
Catching Jordan
, so I was very excited to read Stealing Parker. The book turned out to be different than I expected, but it still had so many of the characteristics that I loved from Catching Jordan.
Parker Shelton's life used to revolve around softball...until her mother left her family to be with another woman. Suddenly the subject of all the town gossip, Parker was desperate to prove that she wasn't like her mother. She quit softball, lost weight, and started kissing a lot of guys. And yet she can't give up the sport entirely. She becomes the manager of the boy's baseball team, which lets her spent time with her best friend Drew but also puts her right in the path of the new assistant coach, Brian. Even though he's a teacher, there is an undeniable spark between Parker and Brian. But there just might be someone else who is intent on stealing Parker's heart...
Only Miranda Kenneally could turn a book about sports into a wonderful romance story that even someone who is anti-sports would want to read. Once again, the playing field is just a backdrop for the story, and so much of the action happens outside of that setting. Stealing Parker explores the difference between love and lust, hookups and relationships. Even though Parker's flirtation-and-maybe-more with Brian should theoretically be doomed from the start, it's impossible to not root for them. After all, he's just the guy Parker needs...at least in the beginning. But Parker has other things going on in her life at home and even at school. I loved that nobody in this book was one-dimensional; they all had their own stories. Because they were all so dynamic, I felt like a student at Hundred Oaks High along with them. And for fans of Catching Jordan, we do see Jordan and Henry again.
I have to say that religion plays an important part in this book. Parker was raised in church, and she has a habit of writing down her prayers and burning them. I liked reading her prayers, as they gave more insight into her thoughts. However, I couldn't help but be bothered by the conservative nature of the church she attended. It was necessary for the tension, and it makes the small-town setting come to life, and yet I still wished it could have been different.
Stealing Parker is a great coming-of-age story about a girl choosing who she wants to be and what will rule her. With romance, great friendships, and more, this is a book you will want to add to fall reading lists. I can't wait to read the next book by Miranda Kenneally!