Book Blogger Hop is a weekly meme hosted by Jennifer at
Crazy-for-Books
. In the spirit of the Twitter Friday Follow, the Book Blogger Hop is a place just for book bloggers and readers to connect and share our love of the written word! This weekly BOOK PARTY is an awesome opportunity for book bloggers to connect with other book lovers, make new friends, support each other, and generally just share our love of books! It will also give blog readers a chance to find other book blogs to read! So visit Crazy-for-Books to grab the logo, post about the Hop on your blog, and start HOPPING through the list of blogs that are posted in the Linky list there!
This week's question:
"In honor of Banned Books Week, what is your favorite 'banned or frequently challenged book?'"
Oh, there are so many! Harry Potter, The Hunger Games, Water for Elephants, and The Perks of Being a Wallflower, to name a few. All wonderful books!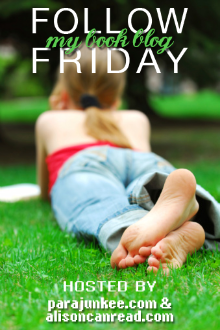 Follow Friday is hosted by
Parajunkee
and
Allison Can Read
. Visit either of their blogs for complete rules of the following fun!
This week's question:
"What book that hasn't been turned into a movie (yet) would you most like to see make it to the big screen, and who would you like cast as your favorite character?"
This is so difficult! I think I'd really like to see Andrea Cremer's Nightshade trilogy made into a movie. As for who would play the characters, I have no idea.
Then of course there's the Black Dagger Brotherhood books...I would LOVE to see those on the big screen. And I know who would play all of the Brothers ;) Sadly, I'm not sure those would ever translate well...oh well, thank goodness for imaginations!
What are your answers? Please leave a comment or a link to your blog!