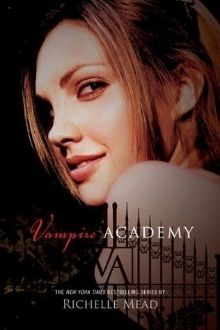 VAMPIRE ACADEMY
By: Richelle Mead
Published By: Razorbill
Release Date: Aug. 16, 2007
Series: Vampire Academy (#1)
Pages: 319
Genre: Paranormal
Reading Level: Young Adult
Source: Bought
Buy the Book: Amazon
Goodreads Summary: St. Vladimir's Academy isn't just any boarding school—it's a hidden place where vampires are educated in the ways of magic and half-human teens train to protect them. Rose Hathaway is a Dhampir, a bodyguard for her best friend Lissa, a Moroi Vampire Princess. They've been on the run, but now they're being dragged back to St. Vladimir's—the very place where they're most in danger...

Rose and Lissa become enmeshed in forbidden romance, the Academy's ruthless social scene, and unspeakable nighttime rituals. But they must be careful lest the Strigoi—the world's fiercest and most dangerous vampires—make Lissa one of them forever.
I tend to be late to a lot of things, so I shouldn't be surprised at myself for taking so long to start this series. However, now that I've finished Vampire Academy, I don't know why I waited so long to read this book. Something about this story immediately drew me in and kept me turning pages without realizing any time had passed.
Rose and Lissa have been on the run from St. Vladimir's Academy, but they both knew it couldn't last forever. When they're brought back by school guardians, Rose and Lissa realize that returning to life there will be more difficult than they thought. They're behind in their classes, and the danger that Rose tried to help Lissa avoid certainly hasn't gone away. While Lissa contends with her own internal debate, Rose has a much more physical fight - daily training sessions with her new mentor, Dimitri. He pushes her past all limits - including those she didn't know she had. As with any high school, rumors abound, and many are about Lissa. To make matters worse, someone seems to have it out for her. Can Rose fulfill her job as a guardian and and keep Lissa safe? And will Lissa and Rose ever be able to return to the life they once knew?
I can sum up everything good about Vampire Academy in one word: Dimitri. All right, that's really not true, but Dimitri is rather great. Handsome, mysterious, a skilled fighter, and able to whisper things in another language...what's not to love? I have a weakness for guys like that, and I loved seeing Dimitri throughout the book. However, in addition to Dimitri, I enjoyed the other characters too. Rose occasionally annoyed me, but most of the time I loved her snark. I also thought it was great to see such a strong friendship in the story, and I liked her fierce determination to protect Lissa. Christian was intriguing as well, even if he couldn't quite live up to Dimitri, and I'm looking forward to seeing how his character is developed in the future books. Beyond the characters, the world brings yet another fresh perspective to vampires - Richelle Mead has her own spin on the creatures, and I enjoyed the lore associated with them. After all of the vampire novels I've read, it was nice to find a vampire story I could still appreciate.
The story itself was fast-paced with a great balance between mystery, romance, action, and introspection. The book managed to surprise me with some of the events, which doesn't always happen. Yet I still wanted more from the whole story - more information, more fleshed-out scenes, more of the world. I'm sure all of this will come as the series unfolds, but I've never been one for patience. I can't wait to keep reading this series to see what happens next.
If you've been debating about reading these books, or just never gotten around to them, move them up on your to-read list. This is definitely a series worth picking up!