"Waiting on" Wednesday is a weekly event hosted by Jill at
Breaking the Spine
that spotlights upcoming releases that we're eagerly anticipating.
This week's selection is: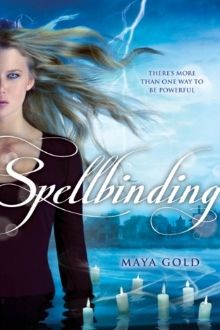 SPELLBINDING
By: Maya Gold
Published By: Scholastic Point
Release Date: April 1, 2013
Preorder the Book: Amazon
Goodreads Summary: There's more than one way to be powerful . . .

It is during a routine school project that Abby Silva--sixteen and nearly friendless--makes a startling discovery: She is descended from women who were accused of witchcraft back in 1600s Salem. And when Abby visits nearby Salem, strange, inexplicable events start to unfold. Objects move when she wills them to. Candles burst into sudden flame. And an ancient spellbook somehow winds up in her possession.

Trying to harness her newfound power, Abby concocts a love potion to win over her longtime crush--and exact revenge upon his cruel, bullying girlfriend. But old magic is not to be trifled with. Soon, Abby is thrust headlong into a world of hexes, secrets, and danger. And then there's Rem Anders, the beautiful, mysterious Salem boy who seems to know more about Abby than he first lets on.

A reckoning is coming, and Abby will have to make sense of her history--and her heart--before she can face the powerful truth.
Why it's wanted:
I was hooked with the mention of the Salem Witch Trials. I love books about witches and think this one sounds really interesting.