I'm very excited to be one of the blogs participating in this cover reveal! J.K. Rock is a pseudonym for sisters-in-law and writing partners Joanne and Karen Rock, and their first novel Camp Boyfriend will be released on July 2 as part of the new contemporary line from
Spencer Hill Press
. But before Camp Boyfriend comes out, there will be a prequel released - Camp Kiss! This prequel will be available on March 26. And now, without further ado, I present
CAMP KISS
by J.K. Rock.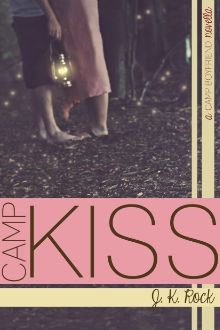 The Camp Kiss That Started It All...

Lauren Carlson, a fourteen-year-old expert on the cosmos, superheroes, and science fiction trivia has a crush on her longtime camp friend, Seth. Last summer she'd dreamed about upgrading their relationship to BF/GF status and this year she has a plan… if only her well-meaning cabin mates wouldn't interfere before she's ready. She hasn't even adjusted to her new braces yet, let alone imagined kissing Seth with them. When a dare pushes her out of her comfort zone, will she and Seth rocket out of the friendzone at last? There's only one way to find out...
Find author J.K. Rock online:
Website | Series Website | Karen's Twitter | Joanne's Twitter | Goodreads
THere's more! As part of the Camp Kiss cover reveal, and in honor of Valentine's Day, the authors are hosting lots of contests and giveaways to win books and other goodies! Be sure to go
here
to check out all the ways to win!