Opening Lines is a new feature here on Portrait of a Book that showcases the first lines of recent and/or upcoming releases. If you're looking for your next read, let these first lines help you decide!
REVEL
By: Maurissa Guibord
Published By: Delacorte Books for Young Readers
Release Date: Feb. 12, 2013
Buy the Book: Amazon
There's an island off the coast of Maine that's not on any modern map.
Shrouded in mist and protected by a deadly reef, Trespass Island is home to a community of people who guard the island and its secrets from outsiders. Seventeen-year-old Delia grew up in Kansas, but has come here in search of her family and answers to her questions: Why didn't her mother ever talk about Trespass Island? Why did she fear the open water? But Delia's not welcome and soon finds herself enmeshed in a frightening and supernatural world where ancient Greek symbols adorn the buildings and secret ceremonies take place on the beach at night.
Sean Gunn, a handsome young lobsterman, befriends Delia and seems willing to risk his life to protect her. But it's Jax, the coldly elusive young man she meets at the water's edge, who finally makes Delia understand the real dangers of life on the island. Delia is going to have to fight to survive. Because there are monsters here. And no one ever leaves Trespass alive.
"Maybe I should have known from the beginning to stay away from Trespass Island."
MIND GAMES
By: Kiersten White
Published By: Harper Teen
Release Date: Feb. 19, 2013
Buy the Book: Amazon
Fia was born with flawless instincts. Her first impulse, her gut feeling, is always exactly right. Her sister, Annie, is blind to the world around her—except when her mind is gripped by strange visions of the future.
Trapped in a school that uses girls with extraordinary powers as tools for corporate espionage, Annie and Fia are forced to choose over and over between using their abilities in twisted, unthinkable ways…or risking each other's lives by refusing to obey.
In a stunning departure from her New York Times bestselling Paranormalcy trilogy, Kiersten White delivers a slick, edgy, heartstoppingly intense psychological thriller about two sisters determined to protect each other—no matter the cost.
"My dress is black and itchy and I hate it."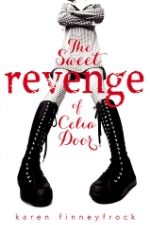 THE SWEET REVENGE OF CELIA DOOR
By: Karen Finneyfrock
Published By: Viking Children's
Release Date: Feb. 21, 2013
Buy the Book: Amazon
That's the day the trouble started.
The trouble that nearly ruined my life.
The trouble that turned me Dark.
The trouble that begs me for revenge.
Celia Door enters her freshman year of high school with giant boots, dark eyeliner, and a thirst for revenge against Sandy Firestone, the girl who did something unspeakable to Celia last year.
But then Celia meets Drake, the cool new kid from New York City who entrusts her with his deepest, darkest secret. When Celia's quest for justice threatens her relationship with Drake, she's forced to decide which is sweeter: revenge or friendship.
This debut novel from Karen Finneyfrock establishes her as a bright, bold, razor-sharp new voice for teens.
"At fourteen I turned Dark."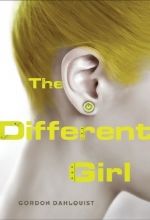 THE DIFFERENT GIRL
By: Gordon Dahlquist
Published By: Dutton Juvenile
Release Date: Feb. 21, 2013
Buy the Book: Amazon
Four nearly identical girls on a desert island. An unexpected new arrival. A gently warped near future where nothing is quite as it seems.
Veronika. Caroline. Isobel. Eleanor. One blond, one brunette, one redhead, one with hair black as tar. Four otherwise identical girls who spend their days in sync, tasked to learn. But when May, a very different kind of girl—the lone survivor of a recent shipwreck—suddenly and mysteriously arrives on the island, an unsettling mirror is about to be held up to the life the girls have never before questioned.
Sly and unsettling, Gordon Dahlquist's timeless and evocative storytelling blurs the lines between contemporary and sci-fi with a story that is sure to linger in readers' minds long after the final page has been turned.
"My name is Veronika. We had been there for years, but I only remember things from part of that time."
Do any of these opening lines grab your attention? What are your favorite first lines that you've read lately?