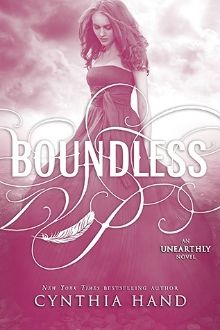 BOUNDLESS
By: Cynthia Hand
Published By: Harper Teen
Release Date: Jan. 22, 2013
Series: Unearthly (#3)
Pages: 438
Genre: Paranormal
Reading Level: Young Adult
Source: ALA Midwinter
Buy the Book: Amazon
Note: This book is the last in a trilogy, following
Unearthly
and
Hallowed
. The following summary may contain spoilers.
Goodreads Summary: The past few years have held more surprises than part-angel Clara Gardner could ever have anticipated. Yet from the dizzying highs of first love, to the agonizing low of losing someone close to her, the one thing she can no longer deny is that she was never meant to live a normal life.

Since discovering the special role she plays among the other angel-bloods, Clara has been determined to protect Tucker Avery from the evil that follows her . . . even if it means breaking both their hearts. Leaving town seems like the best option, so she's headed back to California - and so is Christian Prescott, the irresistible boy from the vision that started her on this journey in the first place.

As Clara makes her way in a world that is frighteningly new, she discovers that the fallen angel who attacked her is watching her every move. And he's not the only one. . . . With the battle against the Black Wings looming, Clara knows she must finally fulfill her destiny. But it won't come without sacrifices and betrayal.

In the riveting finale of the Unearthly series, Clara must decide her fate once and for all.
I was excited to read this book, but it was also bittersweet. Unearthly is one of my favorite angel series, one of the few series in which the overarching battle between good and evil isn't black and white and the love triangle makes the story more intense rather than seeming trite. Boundless brought everything to a good end, though the road of getting there certainly wasn't easy.
Clara never imagined that her life would turn out the way it has. Since learning that she was an angel blood, things have revolved around her fulfilling her purpose, but now Clara can't help but think that there may be more, that there was an even larger purpose. But what will that mean for Christian and for Tucker? As Clara tries to navigate her future, she discovers that sometimes love - even love of family and friends - means sacrificing yourself...
I mentioned before that Unearthly is one of my favorite series, and so much of that has to do with the characters. Whereas Tucker and Christian shine in the other novels, in Boundless, Clara comes into her own, embracing her abilities as an angel-blood, surrendering to her purpose, willing to do whatever it takes to protect and care for those she loves. Clara has a difficult decision to make, choosing between Tucker and Christian. For once it wasn't just a choice between guys, but a choice between following her purpose and following her heart. There were moments in Boundless that were suspenseful, sad, and sometimes even heartbreaking, but there were also moments that made me smile and fall in love with the characters all over again.
There is so much I could say about this book, but I don't want to give anything away for this book or the previous two. Although I sometimes wanted to see more of some of the different events that happened, both to keep the series alive longer and to know more about the world itself, I loved the way everything came together. And even though this was the last book, Cynthia Hand was not out of surprises. She still had a few twists to throw at us, which heightened the stakes but also helped everything in the book come to a more satisfying conclusion.
If you haven't read Cynthia Hand's trilogy and enjoy books with angels, vivid settings, and great love interests, you should definitely pick these books up. And if you've started the trilogy, this is one that is definitely worth finishing. I'll miss this world, but I'm looking forward to seeing what Cynthia Hand writes next!