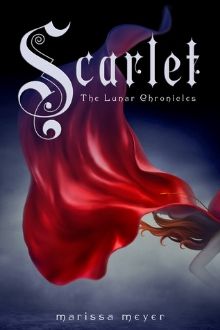 SCARLET
By: Marissa Meyer
Published By: Feiwel and Friends
Release Date: Feb. 5, 2103
Series: Lunar Chronicles (#2)
Pages: 452
Genre: Science Fiction / Fantasy
Reading Level: Young Adult
Source: ALA
Buy the Book: Amazon
Note: Scarlet is the second book in the Lunar Chronicles, and the following summary may contain spoilers. To read my review of the first book, Cinder, click
here
.
Goodreads Summary: Cinder returns in the second thrilling installment of the New York Times-bestselling Lunar Chronicles. She's trying to break out of prison—even though if she succeeds, she'll be the Commonwealth's most wanted fugitive.

Halfway around the world, Scarlet Benoit's grandmother is missing. It turns out there are many things Scarlet doesn't know about her grandmother and the grave danger she has lived in her whole life. When Scarlet encounters Wolf, a street fighter who may have information as to her grandmother's whereabouts, she has no choice but to trust him, though he clearly has a few dark secrets of his own.

As Scarlet and Wolf work to unravel one mystery, they find another when they cross paths with Cinder. Together, they must stay one step ahead of the vicious Lunar Queen who will do anything to make Prince Kai her husband, her king, her prisoner.
Last year, I was hesitant to read Cinder, but it surprised me in a good way. I loved seeing how the old fairy tale of Cinderella was transformed into a futuristic world of cyborgs and androids, powerful world leaders and a new evil queen. I've been excited for a long time to read Scarlet, and the book didn't disappoint.
Scarlet Benoit is searching for her missing grandmother. Most people seem to think that her grandmother left on her own - even the police have given up the case - but Scarlet knows that can't be true. On her routine deliveries, Scarlet just happens to run into someone who might have some information. He's a street fighter who goes by Wolf, full of contradictions, and yet Scarlet knows that he's her best chance for finding out what really happened to her grandmother. But can she really trust a wolf? Meanwhile, Cinder hasn't disappeared. She knows what she has to do, and she won't let a little thing like prison stop her. These two girls would never have had a reason to meet...but when someone like Queen Levana is involved, the enemy of an enemy becomes a friend...
In Cinder, Marissa Meyer took the basic outline of the fairy tale but fleshed it out with new details and characters. In Scarlet, she does the same. The story of Red Riding Hood is there, but once again this book is so much more than its inspiration. Scarlet was strong and determined, loyal and dedicated to her grandmother and the farm. But in her narrative, Wolf stole the show. He was intriguing from the beginning, shy yet strong, fierce yet lacking confidence. Even though I knew I shouldn't trust him, I couldn't keep from softening to him right along with Scarlet. I was also glad to see that Cinder's story continued here. She's trying to figure out her new life, but fortunately she has help - Captain Carswell Thorne. Thorne's larger-than-life ego really brought out Cinder's snarky side, which made for great comic relief. Another relief - Thorne is never portrayed as a love interest. The one person I really missed in this book was Kai. Although we see him briefly, it wasn't nearly enough for the prince.
One of the things I loved in Cinder and again in Scarlet is how many layers there are to the story. There are surprises, even if they aren't completely shocking, and the books are never dull. Even with hard-to-imagine sci-fi elements, the stories really come to life and the pages fly by. The world Marissa Meyer created is fascinating. I loved how the stories of Cinder and Scarlet intersected, and I can't wait to see what happens next for all of these characters.
If you like fairytale retellings, sci-fi books, or just a great story, Cinder and Scarlet are definitely books you want to pick up. I'm already eagerly awaiting the next Lunar Chonicles book, Cress!