I'm very excited to be one of the blogs participating in this cover reveal! The Truth About Alice is realistic YA fiction that tells a story that's very needed in today's world, coming on June 10, 2014 from Roaring Brook Press. And now, without further ado, I present
THE TRUTH ABOUT ALICE
by Jennifer Mathieu.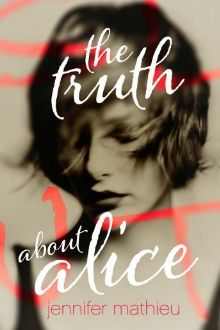 Everyone has a lot to say about Alice Franklin, and it's stopped mattering whether it's true. The rumors started at a party when Alice supposedly had sex with two guys in one night. When school starts everyone almost forgets about Alice until one of those guys, super-popular Brandon, dies in a car wreck that was allegedly all Alice's fault. Now the only friend she has is a boy who may be the only other person who knows the truth, but is too afraid to admit it. Told from the perspectives of popular girl Elaine, football star Josh, former outcast Kelsie, and shy genius Kurt, we see how everyone has a motive to bring – and keep – Alice down.
About Jennifer Mathieu
Young adult author Jennifer Mathieu (pronounced Muh-two, but if you speak French you can pronounce it better than that - sadly, Jennifer doesn't speak French) is a writer and English teacher who lives in Texas with her family. A native of the East Coast and a former journalist, she enjoys writing contemporary young adult fiction that treats teenagers like real people. She loves to eat and hates to cook.
Find Jennifer Mathieu online:
Website | Twitter | Facebook | Goodreads