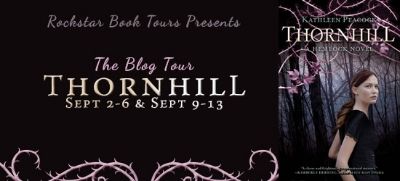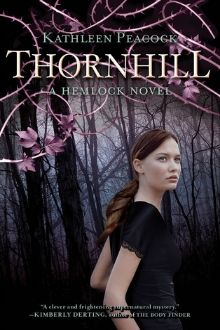 THORNHILL
By: Kathleen Peacock
Published By: Katherine Tegen Books
Release Date: Sept. 10, 2012
Pages: 352
Buy the Book: Amazon | Barnes and Noble
Mac can't lose another friend. Even if he doesn't want to be found.
The ripple effect caused by Mac's best friend Amy's murder has driven Mac's new love, Kyle, to leave Hemlock and disappear from her life forever. But Mac knows that Kyle plans to enroll in a rehabilitation camp, where he can live with other werewolves. She refuses to accept his decision, especially since the camps are rumored to be tortuous. So she sets out in search of Kyle with a barely sober Jason—and Amy's all-seeing ghost—in tow.
Clues lead Mac to find Kyle in a werewolf den in Colorado—but their reunion is cut short by a Tracker raid. Now Mac and Kyle are trapped inside the electric fences of Thornhill, a camp for young werewolves. As she devises an escape plan, Mac uncovers dangerous secrets buried within the walls of Thornhill—and realizes that the risk to the people she loves is greater than ever before.(From Goodreads)
You can read my review here.
~INTERVIEW~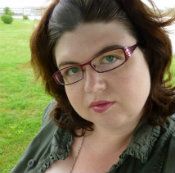 I'm very excited to have
Kathleen Peacock
here today! Kathleen Peacock spent her teen years crushing on authors and writing short stories about vampires. She put her writing dreams on hold while attending college, but tripped over them when office life started leaving her with an allergy to cubicles. Her debut, HEMLOCK, is coming May 8th, 2012 from Katherine Tegen Books, an imprint of Harper Collins, and will be published in the UK under the title DEADLY HEMLOCK from Simon and Schuster Children's Books. Please take a few minutes to learn more about this amazing author and her books!
How would you describe THORNHILL in three words?
Secrets! Kisses! Adrenaline!
What were the different challenges in writing a sequel from writing your first book?
I wanted Thornhill to be accessible to people who hadn't read Hemlock, but I didn't want to bog readers down with unnecessary details about what had happened in book one. Finding that balance was tricky. There were times when I wished I could start the book off with a video—one of those "Last time on Buffy the Vampire Slayer" things.
Setting up clues and plot points for the third book was also a challenge. There was an entire chapter that came back from my editor with the suggestion that I leave all of the details it contained for book three.
Which character in the Hemlock world do you enjoy writing the most? The least?
I like writing Jason the most. He just has this snarky edge that's really fun to play with. My least favorite characters to write are villains because they can be so maddeningly challenging. I think writing a good villain is, in some ways, harder than writing a hero. I try to write bad guys who are more shades of gray than pure black and whose actions, while not forgivable, are sort of understandable; that can be a hard line to walk.
What is your favorite quote?
I'm going to cheat and pick two,
"I love you above all things, even pie." Christopher Moore, Fool
"Of what use was it to be loved and lose one's beauty and become Real if it all ended like this? And a tear, a real tear, trickled down his little shabby velvet nose and fell to the ground." Margery Williams, The Velveteen Rabbit
What was your favorite book as a child?
Probably The Paper Bag Princess by Robert Munsch because I loved the idea that a girl could slay the dragon and save the prince. I also really, really loved The Velveteen Rabbit. As a teen, my favorite books were The Mirror of Her Dreams/A Man Rides Through by Stephen R Donaldson, The Vampire Lestat by Anne Rice, and anything by Douglas Adams.
What can you tell us about your next project?
I'm still working on the third Hemlock book, but I have a few new ideas—some young adult, a few new adult—in the works.
Find Kathleen Peacock Online:


Author Website | Blog | Twitter | Facebook | Goodreads
~GIVEAWAY~
There are many exciting prizes to be won as part of this blog tour, including a
signed
copy of Thornhill! To enter, use the Rafflecopter code below.
For First Place (International):
"Unlock the wolf within" Thornhill necklace (engraved stainless steel pendant on a silver-plated chain (
Signed copy of Thornhill
Signed swag
Runners Up (International)
3 runners up will get swag packs (stickers, bookmarks, signed bookplates)
a Rafflecopter giveaway
Don't miss any of the tour stops for Thornhill! Find the full schedule below:
Week 1
9/2/2013 -
Book Chic
- Review
9/3/2013 -
In the Best Worlds
- Interview
9/4/2013 -
Fall Into Books
- Guest Post
9/5/2013 - Portrait of a Book - Interview
9/6/2013 -
The Book Life
- Review
Week 2
9/9/2013 -
The Reader's Antidote
- Guest Post
9/10/2013 -
Auntie Spinelli Reads
- Review
9/11/2013 -
The Book Belles
- Review
9/12/2013 -
Two Chicks on Books
- Guest Post
9/13/2013 -
Mundie Moms
- Interview