Book Blogger Hop is a weekly meme hosted by Jennifer at
Crazy-for-Books
. In the spirit of the Twitter Friday Follow, the Book Blogger Hop is a place just for book bloggers and readers to connect and share our love of the written word! This weekly BOOK PARTY is an awesome opportunity for book bloggers to connect with other book lovers, make new friends, support each other, and generally just share our love of books! It will also give blog readers a chance to find other book blogs to read! So visit Crazy-for-Books to grab the logo, post about the Hop on your blog, and start HOPPING through the list of blogs that are posted in the Linky list there!
This week's question:
"As a book blogger, how do you introduce yourself in your profile?"
My profile is very general and doesn't include that much information about me. I've thought about changing this, but I've always kept it short for two reasons. One, if I start talking about music, I tend to go on for quite some time. And secondly, there isn't much to tell that would be of interest to readers/authors/publishers. I'm a college student with no husband, no kids, and not even any pets - my life is fairly boring and really does mainly consist of music and books. And that's what you get in my profile :)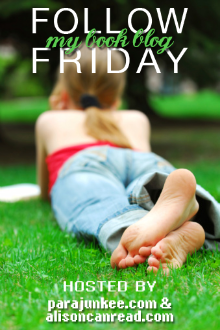 Follow Friday is hosted by
Parajunkee
and
Allison Can Read
. Visit either of their blogs for complete rules of the following fun!
This week's question:
"It's that pesky magic book fairy again! She has another wish: What imaginary book world would you like to make a reality?"
This may be a cop-out answer, but I think I have to choose the world of Harry Potter. I'll be honest - I wish that Hogwarts were real. And how cool would it be for magic to actually work?
What are your answers? Please leave a comment or a link to your blog!