"Waiting on" Wednesday is a weekly event hosted by Jill at
Breaking the Spine
that spotlights upcoming releases that we're eagerly anticipating.
This week's selection is: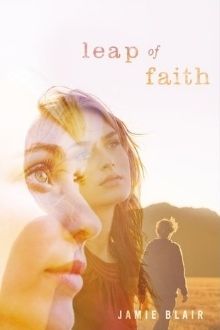 LEAP OF FAITH
By: Jamie Blair
Published By: Simon and Schuster Books for Young Readers
Release Date: Sept. 3, 2013
Preorder the Book: Amazon
Goodreads Summary: Can true love be built on lies? A teen on the run seeks relief and redemption in this gripping, romantic read.

Leah Kurtz has finally found a place to call home, a town where she and baby Addy can live in peace, far from the drug-infested place she grew up. Chris is one of the best parts of her new life, the only person who's ever made her feel safe. And now that she's found him, there's no way she can tell the truth:

Her real name is Faith, not Leah. She's seventeen, not nineteen. And the baby isn't hers—Faith kidnapped her.

Faith's history catches up with her when a cop starts asking questions and Chris's aunt spots her picture in the newspaper. She knows it's time to run again, but if Faith leaves, she'll lose Chris. If Chris is in love with a lie, though, did Faith ever really have him in the first place?
Why it's wanted:
This premise sounds different that anything I've read before and also like it can be an emotional story. I really want to see how everything comes together.