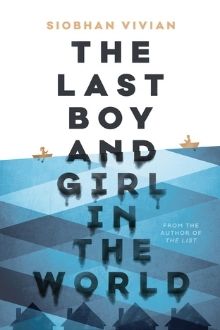 THE LAST BOY AND GIRL IN THE WORLD
By: Siobhan Vivian
Published By: Simon & Schuster Books for Young Readers
Release Date: April 26, 2016
Series: None
Pages: 432
Genre: Contemporary
Reading Level: Young Adult
Source: Purchased
Buy the Book: Amazon
Goodreads Summary: What if your town was sliding underwater and everyone was ordered to pack up and leave? How would you and your friends spend your last days together?

While the adults plan for the future, box up their possessions, and find new places to live, Keeley Hewitt and her friends decide to go out with a bang. There are parties in abandoned houses. Canoe races down Main Street. The goal is to make the most of every minute they still have together.

And for Keeley, that means taking one last shot at the boy she's loved forever.

There's a weird sort of bravery that comes from knowing there's nothing left to lose. You might do things you normally wouldn't. Or say things you shouldn't. The reward almost always outweighs the risk.

Almost.

It's the end of Aberdeen, but the beginning of Keeley's first love story. It just might not turn out the way she thought. Because it's not always clear what's worth fighting for and what you should let become a memory.

First Impression: WOW. This book was not what I expected, but in a good way.
"Although that spring was the end of Aberdeen, I'll always remember it as full of beginnings. And not just for me. For all of us. Things around us were changing, sure, but we were changing too, and we couldn't pretend we weren't any longer. Maybe that's what happens when you're suddenly living your life on a warp speed setting, trying to make the most of it before everything you know slides underneath the water."
I had the pleasure of hearing Siobhan Vivian talk about this book at a signing. She happened to see a painting of a city that had become a real-life Atlantis, and the painting and thoughts about it inspired the book. Aberdeen wasn't the city in the painting, but it certainly gave a great backdrop for this story. It was the sort of town I always dreamed about living in—at least, until I remembered I would not function well in a town without Starbucks. Aberdeen is a small, close-knit town. Keeley has lived there her entire life, Morgan has always been her best friend (and even their moms have always been best friends), and everyone knows everyone.
Small town or not, Keeley still can't get the boy of her dreams to notice her. But all of that changes one day when they end up stacking sandbags next to each other to prevent flooding in the town. Just like the unthinkable happens for Keeley in having Jesse's attention, the unthinkable happens for the town when the flooding actually does start. Suddenly everyone might be losing the only home they've ever known. That's where Keeley and Jesse's comedic and daring antics come into play. They dream up wild ideas to make the most of the time that's left. They throw parties that sound like something I'd want to be at. They joke and make videos and embrace that kind of joie de vivre that I sometimes wish I could have. When reading about golden-boy Jesse, I could almost feel it, feel how good it would be to have someone like that put his arm around me and say something like, "I dare you to have more fun than you've ever had before!"
But this book isn't all parties and the discovery of a first love. At her signing, Siobhan also said something along the lines of how romance doesn't always have to be between a boyfriend and girlfriend. The fact is that there are more types of relationships in the world—family, mentors, and friendships. Those types of relationships really take center stage in this book. That isn't to say that there is no romance, but this book captures so much more than that. In life, we need more than one person, and for good reason. Keeley didn't just have and need Jesse, even though Jesse was the boy she'd loved for forever. She needed her BFF Morgan. She wanted things to be okay for her family. Even Levi, who was the often-annoying overachiever, was still a relationship in Keeley's life. The book would have been incomplete without any of them and their shared experiences.
I haven't read Siobhan Vivian's other books, but if they are anything like this one, or if future books are, it's safe to say that I'll be adding them to my to-read list. From characters where I found little pieces of myself to a story that was completely engrossing, The Last Boy and Girl in the World will absorb your mind and tug on your heart.
Most Memorable Aspect: Aside from all the emotions, what struck me about this book was how perfectly human it was. Perceptions about people and even the truth shifted for the characters and for me as the book went on. The book felt like little pieces of lives were unfolding on a page—sometimes exciting, sometimes slower, sometimes emotional, but always real.