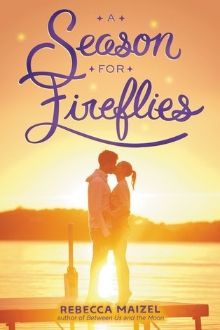 A SEASON FOR FIREFLIES
By: Rebecca Maizel
Published By: Harper Teen
Release Date: June 28, 2016
Series: Nonen
Pages: 256
Genre: Contemporary
Reading Level: Young Adult
Source: Edelweiss
Buy the Book: Amazon
Goodreads Summary: A story of second chances from the author of Between Us and the Moon, which Kirkus Reviews called "what first love is meant to be."

A year ago, Penny Berne was the star of her high school's theater department, surrounded by a group of misfit friends and falling in love for the first time. Now her old friends won't talk to her, her new best friend is the most popular girl in school, and her first love, Wes, ignores her. Penny is revered and hated. Then, in a flash, a near-fatal lightning strike leaves Penny with no memory of the past year—or how she went from drama nerd to queen bee.

As a record number of fireflies light up her town and her life, Penny realizes she may be able to make things right again—and that even if she can't change the past, she can learn to see the magic where she never could before.

This captivating new novel about first love, second chances, and the power of memory is perfect for fans of Lauren Oliver's Before I Fall and Katie Cotugno's How to Love.

First Thought After Finishing: Like Shakespeare said, all's well that ends well--no matter how you get there.
Some books are quick reads but leave you thinking; others you have to take stretch out over several days. A Season for Fireflies is the former. I read the book in one day, mostly in one sitting, but it's been on my mind for a few days since then.
Penny lives for theater. She acts in plays year-round and hopes to be an actress, and her best friends are there. However, her best acting job is what she dos every day—hiding how bad her mom's drinking is from everyone. However, when the effects catch up with her, she's desperate for a change that gets her out of the spotlight and away from questions. She spends a year hanging out with the popular crowd, balancing partying and studying, as long as it keeps her away from home. But when a lighting strike takes a year of her memory, Penny has to decide how she wants to rebuild her life.
Penny's struggles hit close to home. Opening up and accepting help can be a challenge. She finds it easier to ignore the problems, to push away others before they can push her away. Wes, who wants to be more than her friend, scares her most of all. But when she has to face how she reinvented herself, she realizes that even though parties are fun, she can't escape from life for forever. For anyone who has a hard time sharing personal information for fear of reactions, Penny's story is worth reading.
This story was easy to get caught up in. I wanted to know if Penny could rebuild her relationships and if she would get her memory back. Her friends were also fun to read about. Panda especially made me smile and was someone I wanted to know more about—if there was to be a spinoff story, I would choose him to be the main character. Then there was Wes. He's the kind of first crush that every girl deserves, and he plays an important role in the story. Finally, I loved the idea through the book of creating a life for yourself. Life didn't have to be all or nothing; sometimes bold choices work out for the best.
Most Memorable Aspect: I liked the firefly imagery throughout the book. It brought back so many childhood memories and made me wish I'd had some of the same picturesque backdrops. I also loved the theater references throughout the story.