I'm very excited to be one of the many blogs participating in Teaser Tuesdays! TT is a weekly meme hosted by MizB at Books and a Beat. To participate:


* Grab your current read
* Open to a random page
* Share two "teaser" sentences from somewhere on that page
* BE CAREFUL NOT TO INCLUDE SPOILERS!
(Make sure that what you share doesn't give too much away! You don't want to ruin the book for others!)
* Share the title & author, too, so that other TT participants can add the book to their TBR Lists if they like your teasers!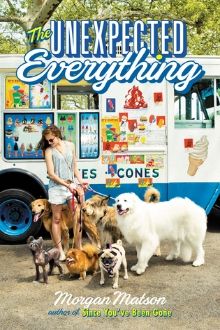 "I made myself look away, trying to stop this train of thought. There was absolutely no point to it. This had been five years ago, and I'd long since gotten over it. There was no need to drag this stuff up again. But even so, I let myself lean slightly into Toby. She gave my shoulders another squeeze, and I was beyond grateful for a friend who knew exactly what I meant even when I wasn't saying anything."



Taken from p. 97 of THE UNEXPECTED EVERYTHING
by Morgan Matson
Please share your teasers - post them or link to your blog!