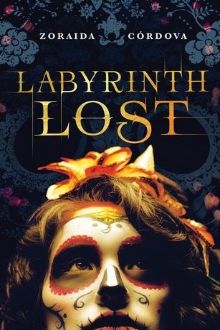 LABYRINTH LOST
By: Zoraida Cordova
Published By: Sourcebooks Fire
Release Date: Sept. 6, 2013
Series: Brooklyn Brujas #1
Pages: 336
Genre: Fantasy
Reading Level: Young Adult
Source: ALA
Buy the Book: Amazon
Goodreads Summary: Nothing says Happy Birthday like summoning the spirits of your dead relatives.

Alex is a bruja, the most powerful witch in a generation...and she hates magic. At her Deathday celebration, Alex performs a spell to rid herself of her power. But it backfires. Her whole family vanishes into thin air, leaving her alone with Nova, a brujo boy she can't trust. A boy whose intentions are as dark as the strange marks on his skin.

The only way to get her family back is to travel with Nova to Los Lagos, a land in-between, as dark as Limbo and as strange as Wonderland...

First Thought After Finishing: I knew I always loved books about witches for a reason!
Alex—short for Alejandra—is a Brooklyn bruja from a powerful family. But while her sisters embrace their powers, Alex wants to be rid of them. She knows that no good can come from her magic, and she is dreading her Deathday celebration. When she meets a brujo boy, he tells her there might be a way to get what she wants. Only her plan backfired, and her family ended up in Los Lagos, an in-between land. In order to get them back, she will have to embrace everything she has try to run from, trust someone she barely knows, and discover that some bonds go beyond worlds.
Growing up, one of my favorite book series was about witches. I've never read any of Zoraida Cordova's work before, but a story about witches infused with Latin American culture had to be on my to-read list. And just like the Devourer in Los Lagos, I devoured this story—but in a good way. From the beginning, I loved seeing Alex's family dynamic. Being an only child, I always wanted sisters. These sisters were the kind I always imagined having—sometimes on each other's case, but always having each others' backs. Alex's deceased family members also have an important role, and it made me wish there were ways to communicate with our ancestors.
Los Lagos itself is as inventive as it is dangerous and unpredictable. I loved meeting the different tribes of creatures there as Alex and the others traveled to the labyrinth. Then there were Nova, the guy you want to like but aren't quite sure if you should, and Rishi, the BFF every girl should get to have. They both have their own stories, and I wanted to know them just as much as Alex. The story made me want to pull all of the characters into a huge group hug, and then let them go because I had to know what was coming next.
Most Memorable Aspect: I loved the excerpts from the bruja history and Book of Cantos that began every chapter. I wish there was a way to learn more about this world!