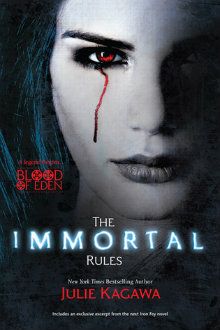 THE IMMORTAL RULES
By: Julie Kagawa
Published By: Harlequin Teen
Release Date: April 24, 2012
Series: Blood of Eden (#1)
Pages: 485
Genre: Paranormal / Dystopian
Reading Level: Young Adult
Source: Publisher
Buy the Book: Amazon
Goodreads Summary: In a future world, Vampires reign. Humans are blood cattle. And one girl will search for the key to save humanity.

Allison Sekemoto survives in the Fringe, the outermost circle of a vampire city. By day, she and her crew scavenge for food. By night, any one of them could be eaten.

Some days, all that drives Allie is her hatred of them. The vampires who keep humans as blood cattle. Until the night Allie herself is attacked—and given the ultimate choice. Die… or become one of the monsters.

Faced with her own mortality, Allie becomes what she despises most. To survive, she must learn the rules of being immortal, including the most important: go long enough without human blood, and you will go mad.

Then Allie is forced to flee into the unknown, outside her city walls. There she joins a ragged band of humans who are seeking a legend—a possible cure to the disease that killed off most of humankind and created the rabids, the mindless creatures who threaten humans and vampires alike.

But it isn't easy to pass for human. Especially not around Zeke, who might see past the monster inside her. And Allie soon must decide what—and who—is worth dying for.
The Immortal Rules in one word: Unputdownable. Everything about the story left me dying to know what would happen next. I am ashamed to admit that I haven't read Julie Kagawa's Iron Fey series, but after reading this book you can bet that I will be remedying that very soon.
The world may be run by vampires, but Allison Sekemoto refuses to let them control her. Rather than be a Registered who gives blood twice a month, she chooses to be Unregistered and live in the Fringe, banding together with other Unregistereds to scrounge for food and eke out what living they can. But all of that changes one night in an instant. Soon Allie is faced with a choice: Die or become a vampire. Determined to stay alive however she can, Allie becomes a vampire. Under the tutelage of her maker, she learns the rules and laws of her new existence. Yet not even Kanin could truly prepare Allie for what she would eventually face. Allie has always been used to fending for herself, never forming true relationships with others. But when she finds herself joined together with a group of humans, Allie will learn that, no matter what Kanin might have said, sometimes you have to throw out the rulebook and follow your heart...
The Immortal Rules is anything but your typical vampire book; instead, it is a compelling blend of paranormal creatures with a dystopian world. Allie is everything that you could want in a heroine. She is strong but compassionate, a good fighter (with a little help from Kanin), and she isn't afraid to take risks. Her journey wasn't an easy one, but I think she found her way quite admirably. Her time with Kanin was very interesting. I loved learning about the vampire hierarchy that Julie created, and the addition of rabids brought yet another dimension to the story. I will be interested to see what else Kanin knows in future books. When Allie leaves her home and journeys beyond the city and into unfamiliar lands, she is constantly confronted with the disparity between who she is and who she can pretend to be. Allie's internal struggle was just as gripping as the external one. Her constant fight to control the Hunger, especially around the group of humans she comes to join, is incredibly tough. With Zeke, however, if she can control her Hunger, she might finally have a chance to learn what relationships based on something more than just convenience mean.
One of the best things about the characters in this book is that they are always more than they seem. With every page there was something new to discover. I said earlier that this book was unputdownable, but the last 100 pages were especially so. With so many confrontations and revelations, it was almost cruel and unusual punishment for this book to be over when it was.
The Immortal Rules is the thrilling start to a new series from Julie Kagawa. I can't wait to read the next installment!

~GIVEAWAY~
I am very excited to have one copy of The Immortal Rules to give away! Please note that the book will be coming directly from the publisher; please allow ample time for the book to arrive if you win.
The contest is open to residents of the US and Canada only. Must be 13 to enter. Please see my
Contest Policy
for more information.
This contest will close on Friday, May 4 at midnight CST.