I'm very excited to be one of the many blogs participating in Teaser Tuesdays! TT is a weekly meme hosted by MizB at Should Be Reading. To participate:


* Grab your current read
* Open to a random page
* Share two "teaser" sentences from somewhere on that page
* BE CAREFUL NOT TO INCLUDE SPOILERS!
(Make sure that what you share doesn't give too much away! You don't want to ruin the book for others!)
* Share the title & author, too, so that other TT participants can add the book to their TBR Lists if they like your teasers!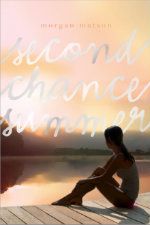 "When I put it together a second later, he had passed out of sight. As I headed home, shielding my eyes against the sun, so bright after the darkness of the woods, I realized that I'd been so caught up in thinking about how things with him had ended, I'd almost forgotten how they had begun."



p. 70 (ARC) from SECOND CHANCE SUMMER by Morgan Matson
Please share your teasers - post them or link to your blog!