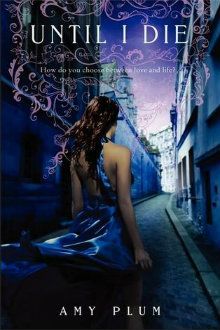 UNTIL I DIE
By: Amy Plum
Published By: Harper Teen
Release Date: May 8, 2012
Series: Revenants (#2)
Pages: 357
Genre: Paranormal
Reading Level: Young Adult
Source: ALA Midwinter
Buy the Book: Amazon
Disclaimer: Until I Die is the second book in the Revenant trilogy and the following summary may contain spoilers. To read my review of the first book, Die for Me, click
here
.
Goodreads Summary: Kate and Vincent have overcome the odds and at last they are together in Paris, the city of lights and love.

As their romance deepens there's one question they can't ignore: How are they supposed to be together if Vincent can't resist sacrificing himself to save others? Although Vincent promises that he'll do whatever it takes to lead a normal life with Kate, will that mean letting innocent people die? When a new and surprising enemy reveals itself, Kate realizes that even more may be at stake—and that Vincent's immortality is in jeopardy.

In Die for Me, Amy Plum created a captivating paranormal mythology with immortal revenants and a lush Paris setting. Until I Die is poised to thrill readers with more heart-pounding suspense, spellbinding romance, and a cliff-hanger ending that will leave them desperate for the third and final novel in the series.
Amy Plum's first novel, Die for Me, swept me away to the streets of Paris for beautiful romance, and Until I Die did exactly the same thing. After anticipating this book for a year, it was wonderful to be back in the City of Love with Kate, Vincent, and the other revenants.
Kate and Vincent have already faced obstacles to being together, but it seems that the trials aren't over. As a revenant, Vincent has the urge to die to save others, but Kate cannot bear the thought of watching him die repeatedly. Because of this, both Kate and Vincent are searching for ways that they can be together without Vincent denying his nature or Kate reliving her nightmares. Yet even while they are on this quest, they still face threats from numa. Suddenly it seems that the revenants may be in more trouble than they ever imagined. With guidance from two new revenants, Kate must work quickly if she will have any hope of helping the revenants she now calls family.
My favorite things from Die for Me were the romance and the setting, and I loved both of these in this book as well. Everything about Paris was once again incredibly vivid, bringing the city to life, and Vincent was as swoon-worthy as before. I also loved all of the art, cinema, and history references sprinkled throughout the book. Aside from the culture, however, there was a fast pace with constant action, not to mention the characters we already know and love. Jules and Ambrose were just as funny and good-hearted as always, and we learn more about John Baptiste and Gaspard. In addition, there are two new revenants introduced here, Violette and Arthur. Violette became a good friend to Kate, and it was nice to see Kate have someone other than her sister to confide in. Until I Die has even more mystery and intrigue than the previous book, and it made for a very compelling story - during the last 100 pages especially it was impossible to put the book down.
As for Vincent and Kate's relationship, I appreciated that it wasn't all sunshine and roses. Even though there was no love triangle introduced (thank goodness!), they still had troubles and issues to work through. And after everything that happened in this book - especially the ending - I cannot wait to see what happens in the final installment of the trilogy.
Once again Amy Plum has crafted a dazzling tale complete with everything you could want in a paranormal romance book. I will be impatiently awaiting the third book, If I Should Die!