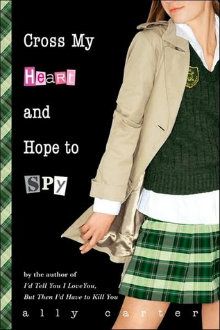 CROSS MY HEART AND HOPE TO SPY
By: Ally Carter
Published By: Hyperion
Release Date: Oct. 2, 2007
Series: Gallagher Girls (#2)
Pages: 236
Genre: Contemporary Fiction
Reading Level: Young Adult
Source: Bought
Buy the Book: Amazon
Disclaimer: This is the second Gallagher Girls book. To read my review of the first one, I'd Tell You I Love You But Then I'd Have to Kill You, click
here
.
Goodreads Summary: Cammie Morgan is back, and it's clear that her life hasn't calmed down since the events of I'd Tell You I Love You, But Then I'd Have to Kill You. At first, giddy anticipation is in the air. Gallagher Academy, Cammie's elite spy school, is hosting a visit from a covert training center for boys. Soon after the boys' arrival, though, everything goes dangerously awry when a series of security breaches are discovered at the academy. Worse yet, teenage agent-in-training Cammie is being blamed for the penetration. With the school's top-secret status at risk, the Gallagher Girls have to work quickly to save their beloved school.
The first Gallagher Girls book surprised me - in a good way. Cross My Heart and Hope to Spy brought me back to the world of intrigue, covert operations, and the group of girls that would be great friends.
Cammie and her friends are back for another semester at Gallagher Academy, and true to form there is never a dull moment at school. Cammie, Bex, Liz, and Macey quickly stumble across a secret Cammie's mom and Mr. Solomon are hiding. In true spy fashion, a little detective work reveals that Gallagher Academy will be playing host to several students from another school - an all-boys school. And one of these students seems to have an interest in Cammie. After her previous experience with boys, Cammie is determined to keep her distance, but at a boarding school that is easier said than done. As if the addition of boys isn't enough for Cammie and her friends to deal with, there seems to be a much more sinister plot that could undermine the foundation of the Gallagher Academy. Can Cammie and her friends save the day?
It was so much fun to be back in the world of spies with Cammie and her friends. While the first Gallagher Girls book focused on life outside the school (or Cammie's attempt at having one), this book was dedicated to life inside the school. The classes were more intense and the schemes were more daring when there were being carried out under the noses of trained spies. It is no surprise that there are secrets, like Blackthorne, and the addition of the boys made this book even more fun than the last. No review would be complete without mentioning one boy in particular - Zach. It was hard to get a read on him sometimes, but after all, he is a spy. His interactions with Cammie were by turns sweet and maddening, but I definitely hope that we see more of him in the future. I don't want to say much more than this and give anything away because...well...where's the fun in that? Being a spy is all about secrets...
All of the things that I admired in the first book, like the realness of the world and the way the girls came to life, held just as true in this book. Once again I loved the classes and all of the high-tech gadgetry, and even Mr. Solomon is starting to grow on me. Once again this proved to be a quick, fun read and the perfect escape for a summer day.
The beauty of starting a series so late is that I don't have long waits in between every book. I am looking forward to reading Don't Judge a Girl By Her Cover!