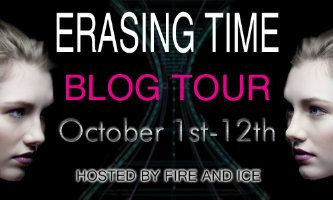 I'm very excited to be one of the stops on the blog tour for Erasing Time! Combining science fiction, dystopian, and romance genres, Erasing Time is a book that is hard to put down and left me wanting to know what happens next.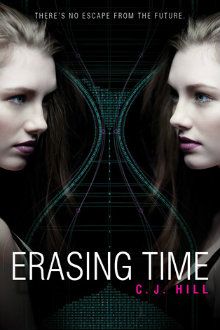 ERASING TIME by C.J. Hill
In this high-action and romantic futuristic adventure, there is no escape from the future for two contemporary girls pulled out of their own time.
When twins Sheridan and Taylor wake up 400 years in the future, they find a changed world: domed cities, no animals, and a language that's so different, it barely sounds like English. And the worst news: They can't go back home.
The twenty-fifth-century government transported the girls to their city hoping to find a famous scientist to help perfect a devastating new weapon. The moblike Dakine fights against the government, and somehow Taylor and Sheridan find themselves in the middle. The only way to elude them all is to trust Echo, a guy with secrets of his own. The trio must put their faith in the unknown to make a harrowing escape into the wilds beyond the city.
Full of adrenaline-injected chases and heartbreaking confessions, Erasing Time explores the strength of the bonds between twins, the risks and rewards of trust, and the hard road to finding the courage to fight for what you believe in. (From Goodreads)
~INTERVIEW~
I'm very excited to have
C.J. Hill
here today. She was kind enough to answer questions about Erasing Time and some of her favorite things. Please take a few minutes to learn more about this author!
If this were Twitter, how would you pitch Erasing Time in 140 characters or less?
Erasing Time is a time travel, dystopian romance with twists, turns, and a fun take on the English language. There are no vampires anywhere to be found.
Erasing Time involves time travel, futuristic machines, and enough science to be believable without being confusing. What kind of research did you have to do while writing this book?
One of the twins in the book, Taylor, is a physics genius who not only explains some of the physics behind the time machine, but also comments on some of the difficulties in building one. I'm not a physics genius, so this took some research on my part. Luckily while I was writing the book, Discover Magazine did an issue devoted to physics mysteries. It came in handy. Also, I'm married to a rocket scientist. He came in handy too.
In your book, the language has evolved in the future. How did you develop this new English?
I've always found the progression of the English language interesting. Take the word 'sincere'. It literally means without wax. Back several centuries ago when artisans were paid to sculpt statues, they sometimes made mistakes and filled them in with wax. The mistakes were indistinguishable from the marble for a long time, but eventually became apparent. By then though, the money paid to the artisans was long gone.
So the word sincere—without wax—came to mean something that was genuine.
See what a word geek I am?
English keeps on progressing, changing, and taking words from other cultures. Shakespeare is hard for us to understand right now. If we go back much further in the timeline the spoken English is completely un-understandable. (Okay, I know un-understandable isn't a real word, but Shakespeare made up 1,700 words, so I figure I can make up one up every once in awhile too.)
When I first wrote scenes from Echo's point of view, I threw in lots of phrases and words to make the future dialogue sound different from 21st English. Most of those got taken out. My editor thought they would make the reader stop too many times to figure out what Echo meant. She's probably right. Now there are just a few words and phrases to give the dialogue a futuristic feel.
One of the hardest things about the novel was keeping 21st century slang and words out of the 25th century characters' dialogue and thoughts. At first I never had them say the word 'well'. I figured it would be gone after 400 years. The absence of 'well' made the characters' dialogue seem stilted though, so I had to put 'well' back in. Sometimes you've got to sacrifice accuracy for readability.
From where do you draw your inspiration as a writer? Who are some of your favorite authors?
I get ideas everywhere. Nature, news, and life are full of intriguing things. In fact, it's hard to go a day and not get some sort of a plot idea.
Growing up, my favorite author was Ellen Conford. Her writing wasn't full of poetry, descriptive passages, theme or symbolism. It was light, funny, and easy to read. I think she really affected my writing style because I write a lot like she did.
If time travel were possible, when/where would you want to go?
I'd go back and tell teenage me to wear the sunscreen like my parents kept telling me to put on. I'd also insist that teenage me always wore my seatbelt. In fact, I'd pretty much take White-out to my teenage years.
What was your favorite book as a child?
The Phantom Tollbooth. It was perhaps the only book I read more than once when I was a child. I loved it so much that I've written a Phantom Tollbooth-ish (Another made up word. Maybe one day I'll catch up to Shakespeare) novel of my own. I'm waiting for a revision letter for it right now. It was a fun book to write because I got to do a lot of word play things.
What is your favorite quote?
My children would probably say it's: "Are your jobs done?" because I say it so frequently. I also say the phrase, "I'll only have one more piece of chocolate, and then I'm done," quite a bit. However, I'm a big fan of: "It's not whether you win or lose that counts, but how you play the game."
That's how I try to live life.
That's also why I don't watch a lot of sports on TV. I don't care who wins.
What can you tell us about your next project?
The sequel to Erasing Time, Echo in Time has gone to the copy editor, so it's about done. I still have revisions to do on the Slayers sequel and my middle grade fantasy (the Phantom Tollbooth-ish book.) I'm also plotting out my next fairy godmother book. Lots is going on.
~GIVEAWAY~
I am very excited to offer one copy of Erasing Time for a giveaway, courtesy of the author and Harper Teen. To enter, please fill out the form below.
This contest is open to US residents only. Must be 13 to enter. Please see my
Contest Policy
for more information.
This contest will close on Sunday, Oct. 21 at 12:01am CST.
Don't miss any of the stops on the blog tour!
October 1-
Fire and Ice
October 2-
Ravenous Readr
October 3-
Fiktshun
October 4-
I'm A Reader Not A Writer
October 5-
Books Complete Me
October 6-
The Mod Podge Bookshelf
October 7-
Portrait of a Book
October 8-
LDSWBR
October 9-
PageTurners Blog
October 10-
Reading Teen
October 11-
YA Bliss
October 12-
Wastepaper Prose