"Waiting on" Wednesday is a weekly event hosted by Jill at
Breaking the Spine
that spotlights upcoming releases that we're eagerly anticipating.
This week's selection is: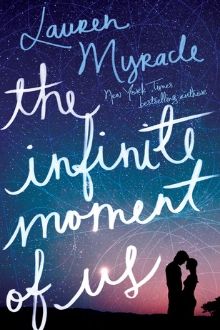 THE INFINITE MOMENT OF US
By: Lauren Myracle
Published By: Amulet Books
Release Date: Aug. 20, 2013
Preorder the Book: Amazon
Goodreads Summary: For as long as she can remember, Wren Gray's goal has been to please her parents. But as high school graduation nears, so does an uncomfortable realization: Pleasing her parents once overlapped with pleasing herself, but now . . . not so much. Wren needs to honor her own desires, but how can she if she doesn't even know what they are?

Charlie Parker, on the other hand, is painfully aware of his heart's desire. A gentle boy with a troubled past, Charlie has loved Wren since the day he first saw her. But a girl like Wren would never fall for a guy like Charlie—at least not the sort of guy Charlie believes himself to be.

And yet certain things are written in the stars. And in the summer after high school, Wren and Charlie's souls will collide. But souls are complicated, as are the bodies that house them . . .

Sexy, romantic, and oh-so-true to life, this is an unforgettable look at first love from one of young adult fiction's greatest writers.
Why it's wanted:
I love books with troubled characters who heal each other and become the perfect couple. This book sounds like it could be a great emotional journey, and I want to see how these characters end up.