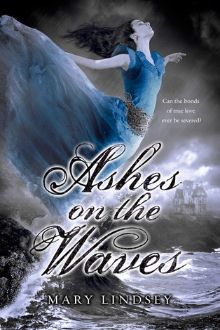 ASHES ON THE WAVES
By: Mary Lindsey
Published By: Philomel
Release Date: June 27, 2013
Buy the Book: Amazon
Goodreads Summary: Liam MacGregor is cursed. Haunted by the wails of fantastical Bean Sidhes and labeled a demon by the villagers of Dòchas, Liam has accepted that things will never get better for him—until a wealthy heiress named Annabel Leighton arrives on the island and Liam's fate is changed forever.

With Anna, Liam finally finds the happiness he has always been denied; but, the violent, mythical Otherworlders, who inhabit the island and the sea around it, have other plans. They make a wager on the couple's love, testing its strength through a series of cruel obstacles. But the tragedies draw Liam and Anna even closer. Frustrated, the creatures put the couple through one last trial — and this time it's not only their love that's in danger of being destroyed.

Based on Edgar Allan Poe's chilling poem Annabel Lee, Mary Lindsey creates a frighteningly beautiful gothic novel that glorifies the power of true love.
From the very first page I was transported to the mystical island where the love story of Liam and Anna unfolded. There were Poe quotes at the beginning of each chapter that set the stage and told the story in their own way, and out of them grew a wonderfully tragic narrative. The writing is both lyrical and vivid, and everything about the island came to life in a story that I didn't want to put down. Despite everything that happens, there is always an undertone of hope, reinforcing the idea that love never dies. I hated turning the final page, because even though I knew that the story was over, I still wanted more.
THINGS I CAN'T FORGET
By: Miranda Kenneally
Published By: Sourcebooks Fire
Release Date: March 1, 2013
Buy the Book: Amazon
Goodreads Summary: Kate has always been the good girl. Too good, according to some people at school—although they have no idea the guilty secret she carries. But this summer, everything is different…

This summer she's a counselor at Cumberland Creek summer camp, and she wants to put the past behind her. This summer Matt is back as a counselor too. He's the first guy she ever kissed, and he's gone from a geeky songwriter who loved The Hardy Boys to a buff lifeguard who loves to flirt…with her.

Kate used to think the world was black and white, right and wrong. Turns out, life isn't that easy…
In this book, through Kate, Miranda Kenneally tackled the tougher issues about how to decide who you want to be - not just who, but what kind of person, questioning long-held beliefs, and the self-discovery that can only come when you're in a different environment from that in which you were raised. Kate's time at camp reminded me not only of my own summers spent at church camp as a child but also the first time I was away from home and surrounded by people with vastly different backgrounds from myself, and how I changed as a result. I enjoyed watching her journey and was glad to see her find something that worked for her. Of Miranda Kenneally's three books, Things I Can't Forget is a definite favorite.
"Does being in love mean forgetting everything you know? Or is it about folding that love into your life? Because right now, I have no idea how to balance that.

Love weighs a million pounds."
Be sure to check out the
Best I've Read
blog to find more amazing books featured this week!