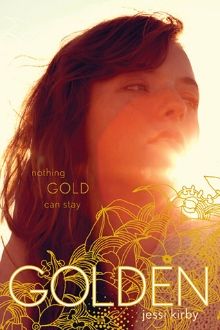 GOLDEN
By: Jessi Kirby
Published By: Simon & Schuster Books for Young Readers
Release Date: May 14, 2013
Buy the Book: Amazon
Goodreads Summary: Love, tragedy, and mystery converge in this compelling novel from "an author to watch" (Booklist).

Seventeen-year-old Parker Frost has never taken the road less traveled. Valedictorian and quintessential good girl, she's about to graduate high school without ever having kissed her crush or broken the rules. So when fate drops a clue in her lap—one that might be the key to unraveling a town mystery—she decides to take a chance.

Julianna Farnetti and Shane Cruz are remembered as the golden couple of Summit Lakes High—perfect in every way, meant to be together forever. But Julianna's journal tells a different story—one of doubts about Shane and a forbidden romance with an older, artistic guy. These are the secrets that were swept away with her the night that Shane's jeep plunged into an icy river, leaving behind a grieving town and no bodies to bury.

Reading Julianna's journal gives Parker the courage to start to really live—and it also gives her reasons to question what really happened the night of the accident. Armed with clues from the past, Parker enlists the help of her best friend, Kat, and Trevor, her longtime crush, to track down some leads. The mystery ends up taking Parker places that she never could have imagined. And she soon finds that taking the road less traveled makes all the difference.

So much for normal.
"Where so many sunset paintings look peaceful and calm, melancholy is woven into every brushstroke of this one. It's a twilight image of the familiar dark razor peak silhouettes of the Minarets, looking icy and stoic. The only warmth in the painting comes from a barely visible sliver of golden light behind the mountains. The last of the sun. Above that the sky pales, then deepens to violet, faintly lit by a delicate wash of stars and the tiny sliver of moon. It's a skyline I've fallen asleep looking at most nights of my life, but the feeling in it is so lonely and sad it's hard to believe it's the same one."
"Tell me, what is it you plan to do with your one wild and precious life?" This question, a quote from a poem posed by Parker's English teacher, resonates throughout the book. As the story unfolds, Parker is constantly confronted with this question, almost like a challenge - from her mother, who expects a certain answer, from her best friend Kat, who wants Parker to take a chance, from the pages of Julianna's diary, as Julianna begins to find her own path in life, and finally from herself, and she realizes that she doesn't have to have her life set in stone already. Parker is such a relatable character. Throughout the book I felt like I was reading not only about my high school self but also the person that I am now. Golden made me think in a way that few books do. I loved everything about this story, from the Frost quotes and references at the beginning of each chapter and scattered throughout the story to the diary entries from Julianna. Orion is definitely swoon-worthy, and Trevor adds some humor to an otherwise deep and poignant story.
What makes Golden so moving isn't just the story itself, but how it is written. Jessi Kirby writes scenes and interactions that are beautiful, heartbreaking, sweet, touching, and just perfect. Between her way with words and the descriptions she gives, she manages to evoke all of the feelings. Once again she's written a book that will make you think, make you want more, make you cry, but in the end make you smile. This book will be one that I recommend to everyone.
Be sure to check out the
Best I've Read
blog to find more amazing books featured this week!