I'm very excited to share this new cover with you! Milayna blends romance and adventure into angel lore, and I can't wait to read the story behind this gorgeous cover. And now, without further ado, I present
MILAYNA
by Michelle Pickett!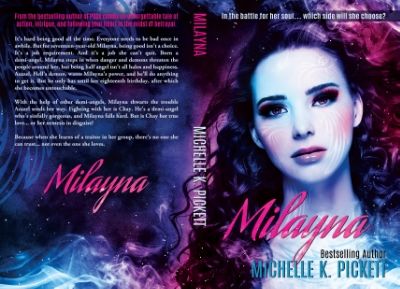 From the bestselling author of PODs comes an unforgettable tale of action, intrigue, and following your heart in the midst of betrayal.

It's hard being good all the time. Everyone needs to be bad once in a while. But for seventeen-year-old Milayna, being good isn't a choice. It's a job requirement. And it's a job she can't quit. Born a demi-angel, Milayna steps in when danger and demons threaten the people around her, but being half angel isn't all halos and happiness. Azazel, Hell's demon, wants Milayna's power and he'll do anything to get it. But he only has until her eighteenth birthday, after which she becomes untouchable.

With the help of other demi-angels, Milayna thwarts the trouble Azazel sends her way. Fighting with her is Chay. He's a demi-angel who's sinfully gorgeous and Milayna falls hard. But is Chay her true love...or her nemesis in disguise?

Because when she learns of a traitor in her group, there's no one she can trust…not even the one she loves.
About Michelle Pickett
I'm a wife, mother, author, reader, although not always in that order. I've been an avid reader since a young child. I began writing for personal enjoyment in college, where I graduated Summa Cum Laude with a degree in accounting. Why I chose a degree that didn't encourage creativity is a mystery to me.
I'm addicted to Reese's peanut butter cups and eat way too many while I write. I have a weird obsession with hoodies and can't write without wearing one. I hate to cook, but love to watch cooking shows.
I'm an unabashed romantic and love swoon-worthy happy endings that give me butterflies for days.
Born and raised in Flint, Michigan, I now reside in a small community outside Houston, Texas with my incredibly supportive, not to mention gorgeous, husband, three amazing school-aged children, a 125-pound lap dog, and a cat that thinks she's queen.
I write adult and young adult Sci/Fi, urban fantasy and paranormal romances.
I love to hear from readers and other authors, so drop me a note and say "Hi!"
Find Michelle Pickett online:
Website | Twitter | Facebook | Goodreads