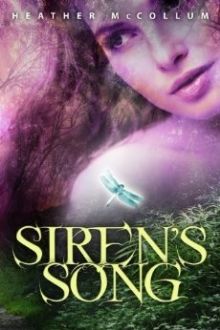 SIREN'S SONG
By: Heather McCollum
Release Date: March 25, 2014
Published By: Spencer Hill Press
Goodreads Summary: Jule Welsh can sing. She enthralls people with her bel canto voice. But it takes more than practice to reach her level of exquisite song; it takes siren's blood running through her veins. Jule is starting her senior year at Cougar Creek High when her relatively normal world begins to resemble a roller coaster flying through a carnival scare house. Her mother is diagnosed as insane and committed, a psycho-stalker is snapping pictures of her to put into his homemade Jule-shrine, her voice is suddenly putting people into comatose trances, oh and the gorgeous new guy in town, Luke Whitmore, is interested in her . . . but also wants to kill her.
~ MEET JULE AND LUKE ~
Jule:
Her mother is an opera singer and has recently been committed to a mental health facility.

Jule's voice is rich, beautiful and, lately, has the ability to entrance people.

Jule is starting her senior year at Cougar Creek High School in Summit, North Carolina where she will star in the school's production of Phantom of the Opera.

Jule is an only child and lives in an old house across from a new subdivision. She loves to sit on her wrap around porch with her dog, Mica.

Jule loves lasagna and the smell of lilacs.

Jule has a birthmark in the shape of a dragonfly on her chest.
Luke:
Luke has recently moved to Summit from Boston.

Luke's father was a pro hockey player and is now the coach for the local NHL team.

Luke is very close to his "cousins" Matt and Taylin and all three of them have the same birthday, 31 October.

Sometimes it looks like Luke has tattoos wrapping around his arms that look like dragons.

Luke is fluent in French and can speak Scots-Gaelic.

Luke has a hard time controlling his temper at times.
~ ABOUT THE AUTHOR ~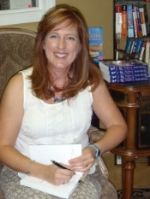 Heather McCollum is an award winning, historical paranormal romance writer. She earned her B.A. in Biology from the University of Maine, much to her English professor's dismay. She is a member of Romance Writers of America, Heart of Carolina Romance Writers and the Ruby Slipper Sisterhood of 2009 Golden Heart Finalists.
The ancient magic and lush beauty of Great Britain entranced Ms. McCollum's heart and imagination when she visited there years ago. The country's history and landscape have been a backdrop for her writing ever since. She currently resides with her very own Highland hero and three spirited children in the wilds of suburbia on the mid-Atlantic coast.
Find Heather McCollum Online:
Author Website | Facebook | Goodreads | Twitter
~ GIVEAWAY ~
a Rafflecopter giveaway