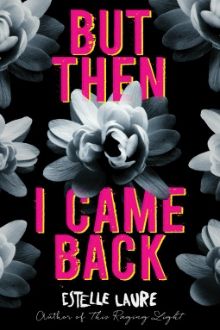 BUT THEN I CAME BACK
By: Estelle Laure
Published By: Houghton Mifflin Harcourt Books for Young Readers
Release Date: April 4, 2017
Series: None
Pages: 288
Genre: Contemporary Fiction
Reading Level: Young Adult
Source: Publisher
Buy the Book: Amazon
Goodreads Summary: Eden Jones, a 17-year-old girl, feels lost after surviving a near fatal accident. Unable to connect with her family and friends, Eden forms an unlikely relationship with Joe, a boy who comes to the hospital to visit Jasmine, a friend who may soon be gone forever. Eden is the only person who can get through to Jasmine, but is she brave enough to face a world that's bigger and more magical than she ever would have allowed?

First Thought After Finishing: As Tolkien wrote, not all who wander are lost…
After you've been in a coma, can life ever be the same? Is there life after death, and how can we know? These are some of the questions that Eden struggles with in the new novel by Estelle Laure. But Then I Came Back explores themes as well as self-discovery and new love. This novel is a companion story to This Raging Light, but it can be read as a standalone novel.
"I know better now than to believe in real endings. Things only change. They become something else. We adapt. And sometimes we grow wings."
After an accident, Eden slips into a coma. When she finally wakes up again, she starts to realize that she cannot just slip comfortably back into her life from before. Not only has her body changed, keeping her from doing ballet that has always been her life, but also she cannot quite shake images and dreams from her time in the coma. She feels a mysterious connection to another coma patient whom she dubs Vasquez, and because of her, she comes to know Joe, the one solid and steady visitor. As Eden finds herself drawing closer to Joe, the mystery surrounding Vasquez intensifies, and the lines between the living and the dead become more blurred. In Eden's new life, who will she be and what will she do?
From the beginning, this book drew me in because of Estelle Laure's writing style. The opening pages are slightly disjunct and a bit confusing, matching Eden's state of mind. As she becomes stronger and more self-aware, the writing changes, telling a story woven with beautiful poetry and quotes from Shakespeare and other famous authors. I also loved the connection between worlds that is explored here. Eden refers to the "in-between," and she seems to be commented there because of Vasquez. I would have loved to see this explored more—I find that concept fascinating.
"This is between me and whatever mighty forces are at work. I spread my arms wide to the sky, and I let go. I am not afraid anymore."
Beyond the mysteries of life and death, Eden struggles to regain her life as she deals with physical restrictions and a missing chunk of time. I enjoyed watching her relationship with Joe progress; it was just the right mix of awkward and sweet. Joe is a character who could have a story in his own right, and it always makes me happy to think that the characters weren't designed for each other but instead fit together so well because of who they are separately. Joe gives Eden moments of happiness during her recovery, and these prompted Eden to do the hard work of deciding who she wanted to be in her future.
Most Memorable Aspect: The imagery with the black flowers was very vivid, and I keep seeing the scenes in my mind.

~ ~ ~ ABOUT THE AUTHOR ~ ~ ~
Estelle Laure is a Vonnegut worshipper who believes in love and magic and the power of facing hard truths. She has a BA in Theater Arts from New Mexico State University and an MFA in Writing for Children and Young Adults from Vermont College of Fine Arts, and thinks everyone should have to wait tables or work in a kitchen at least once in their lives. She lives in Taos, New Mexico with her children.
Find Her Online: Website | Twitter | Goodreads | Instagram
~ SEE THE FULL TOUR SCHEDULE ~
Week One:
3/27/2017 - 
Literary Dust
- Interview
3/28/2017 - 
The Best Books Ever
 - Review
3/29/2017 - 
Novel Novice
- Guest Post
3/30/2017 - Portrait of a Book - Review
3/31/2017 - 
Literary Meanderings
- Excerpt
Week Two:
4/3/2017 - 
YA Book Madness
- Review
4/4/2017 - 
Don't Judge, Read
- Review
4/5/2017 - 
Tales of the Ravenous Reader
- Interview
4/6/2017 - 
Just Commonly
- Review
4/7/2017 - 
Wandering Bark Books
- Excerpt
~ DON'T MISS THIS GIVEAWAY! ~
a Rafflecopter giveaway