As a math teacher, I love the title of this book! Plus (see what I did there?) I love the idea of a girl who loves math and is a synesthete of sorts. I can't wait to read this one!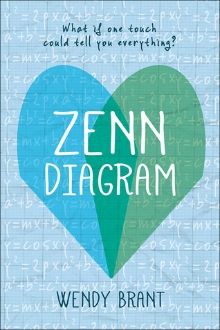 ZENN DIAGRAM
By: Wendy Brant
Published By: Kids Can Press
Release Date: April 4, 2017
Series: None
Pages: 328
Genre: Contemporary
Reading Level: Young Adult
Buy the Book: Amazon
Goodreads Summary: Eva Walker is a seventeen-year-old math genius. And if that doesn't do wonders for her popularity, there's another thing that makes it even worse: when she touches another person or anything that belongs to them — from clothes to textbooks to cell phones — she sees a vision of their emotions. She can read a person's fears and anxieties, their secrets and loves … and what they have yet to learn about calculus. This is helpful for her work as a math tutor, but it means she can never get close to people. Eva avoids touching anyone and everyone. People think it's because she's a clean freak — with the emphasis on freak — but it's all she can do to protect herself from other people's issues.

Then one day a new student walks into Eva's life. His jacket gives off so much emotional trauma that she falls to the floor. Eva is instantly drawn to Zenn, a handsome and soulful artist who also has a troubled home life, and her feelings only grow when she realizes that she can touch Zenn's skin without having visions. But when she discovers the history that links them, the truth threatens to tear the two apart.

~ ~ ~ EXCERPT ~ ~ ~
While he waits for his coffee, I snuggle deeper into the couch, hoping he won't notice me. The only thing worse than filling out college applications the night of the homecoming dance is your crush seeing you fill out college applications the night of the homecoming dance. I guess it should make me feel better that he's not at the dance, either, but it doesn't. When guys don't go to homecoming it seems like a conscious choice. When girls don't go, it just seems like they didn't get asked.

"Tall black drip!" the barista calls out, like she's calling out his name and not the drink. Zenn is tall and dark, but there is nothing drippy about him. He is most definitely non-drippy, whatever that means. He takes his coffee and I think I am home free until he steps away from the counter.

Crap. He sees me. I am equal parts mortified and thrilled.

He raises his cup in a silent greeting and comes a few steps closer. He opens the lid and I try not to stare at his mouth as he blows on his coffee to cool it.

"Hey, Zenn." My voice sounds goofy in my own ears. Too loud in this small, cozy space.

He takes a tentative sip from his cup. Straight black coffee, no cream, no sugar, no chocolate syrup. What a badass.

"No homecoming for you either?" he asks.

I close my laptop and press my hands against the warm surface. I shrug. "I'm not much of a dancer." Zenn nods in agreement. "Yeah. Me neither."

He comes even closer and sits down on the arm of the sofa across from me. His knees are spread wide, his forearms resting on his inner thighs, his hypnotizing hands holding his coffee in the triangle between his legs. He looks so comfortable, so at ease in his own skin. How does one get that way? You wouldn't think it would be hard – I mean, we're born in our skin. It should be pretty comfortable by the time you hit seventeen, eighteen. But for me...not so much.
~ ~ ~ ABOUT THE AUTHOR ~ ~ ~
So my name alone should give you a clue that I graduated from high school when bangs were big and clothes were baggy. I went to Northwestern University and majored in journalism even though I had no desire to be a journalist. I've been married to a great guy for a whole drinking-aged person's life. I've got two amazing and yet very different (and very tall) teenage kids. I like crappy food, pinning inspirational quotes on Pinterest, have a tendency to start paragraphs with "anyway", and I wish I were funnier. I would love to be one of those really, REALLY funny bloggers (like Insane in the Mom-Brain) that makes you pee yourself a little bit. I am only moderately funny. I admit that. It's one of my great sadnesses in life.
​I started writing fiction when I was 10, but tried to be practical with the whole journalism thing. Didn't take. Shortly after college, the fiction-writing desire reared its non-practical head and I've been writing ever since. 
Anyway, I'm probably just like you. We'd probably be friends if we met in real life. (Well, let's be honest. It's likely that only my friends are actually reading this blog, so we probably ARE friends in real life.) But whether we are friends in real life, or just virtual friends through cyberspace, I hope you will enjoy your time here.
Check out my debut YA novel, ZENN DIAGRAM (KCP Loft 4/4/17), available for pre-order at Amazon, Barnes & Noble, or Target!
Find Her Online: Website | Twitter | Instagram
~ DON'T MISS THIS GIVEAWAY!~
(1) Winner will receive an annotated copy of Lessons in Falling by Diana Gallagher (US only) Follow these rules to enter!
3 winners will receive a hardcover of ZENN DIAGRAM, US Only. The giveaway will be open until April 11th at 12:00 a.m. Eastern.
a Rafflecopter giveaway


Cecelia Ahern's first book, Flawed, was so popular, and now the next installment is here! Are you eager to see what happens next? It's bound to be good!
PERFECT
By: Cecelia Ahern
Published By: Feiwell & Friends
Release Date: April 4, 2017
Series: Flawed
Pages: 352
Genre: Dystopian
Reading Level: Young Adult
Buy the Book: Amazon
Goodreads Summary: Celestine North lives in a society that demands perfection. After she was branded Flawed by a morality court, Celestine's life has completely fractured--all her freedoms gone.

Since Judge Crevan has declared her the number one threat to the public, she has been a ghost, on the run with Carrick--the only person she can trust.

But Celestine has a secret--one that could bring the entire Flawed system crumbling to the ground. A secret that has already caused countless people to go missing.

Judge Crevan is gaining the upper hand, and time is running out for Celestine. With tensions building, Celestine must make a choice: save just herself or to risk her life to save all Flawed people.

And, most important of all, can she prove that to be human in itself is to be Flawed?

~ ~ ~ EXCERPT ~ ~ ~
They stay there for three hours. My muscles burn, my feet ache, but I'm afraid to move.

When the fire has reduced to a smolder, Granddad and Dahy are ordered to place the bundles of food onto the coals. The farmworkers watch from their orderly line, their F brand armbands all visible on their right arms, just above their elbow.

This was supposed to be a celebration, a coming together to show that the Guild couldn't beat them down. Now the Whistleblowers themselves are here. Hiding behind the tree, huddled on the ground, hugging my legs, shivering from the damp forest, I can't say that I feel empowered. This feels like a defeat.

Granddad and Dahy cover the food with the soil so it will cook under the ground in the heat. Granddad looks at the ground, his work finished, as though he's buried me alive. Again I want to call out to him that I'm okay, I made it out, but I can't.

A phone rings and the female Whistleblower takes it. She steps aside, walks away from the others, so she can talk in private. She moves closer to me in the woods. I tense up again.

"Judge Crevan, hello. It's Kate. No, Judge, Celestine isn't here. We've checked everywhere."

Silence as she listens and I hear Crevan's voice from where I stand. Kate walks farther and stops by my tree.

I press my back to the tree, squeeze my eyes shut, and hold my breath.

"With all due respect, Judge, this is the Guild's sixth visit to the property and I believe Mary May was meticulous in her search. We've checked everywhere you can imagine. I don't believe she's here. I think the grandfather is telling the truth."

I can hear the frustration in her voice. They're all under pressure to find me, pressure placed on them by Judge Crevan. Kate takes a few more steps, right into my eyeline.

She slowly scans the forest, her eyes searching the distance.

Then she looks right at me.
~ ~ ~ ABOUT THE AUTHOR ~ ~ ~
At twenty-one, Cecelia wrote her first novel PS, I Love You, which was sold to forty-seven countries. The film of the same title, directed by Richard LaGravenese and produced by Wendy Finerman productions, starred Hilary Swank, Lisa Kudrow, Kathy Bates, Gerry Butler, Harry Connick Jr, Gina Gershon and Jeffrey Dean Morgan. PS, I Love You was one of the biggest-selling debut novels of 2004, reaching number 1 in Ireland and in the UK Sunday Times bestseller list. It was also a bestseller throughout Europe and the USA, staying on the best-seller list in Germany for 52 weeks.
That same year, in November 2004, her second book Where Rainbows End (as Rosie Dunne hardback in the US, Love, Rosie paperback in US) also reached no.1 in Ireland and the UK, remaining at the top of the Irish bestsellers list for 12 weeks and again was a bestseller internationally.  Where Rainbows End was adapted for film titled Love, Rosie and will be released in Oct 2014, starring Lily Collins and Sam Claflin.
Her third book If You Could See Me Now was published in November 2005 and also became an international bestseller. It has been optioned by producer Simon Brooks, producer of Love, Rosie.
Cecelia's fourth novel A Place Called Here (published under the title There's No Place Like Here in the US) also became an international number one bestseller.
Thanks For The Memories her fifth novel was also a huge bestseller and is now being adapted for a TV Drama Series by Gate Productions.
The Gift was published in October 2008 and became an International bestseller. It is optioned by Oscar winning producer Andreas Bareiss, and it is going into production later this year.
Her seventh novel The Book Of Tomorrow was released in October 2009 and eOne Television are developing it for a TV series in the US.
In March of 2011 her two short stories, Girl in the Mirror were published.
In November by Cecelia's eighth novel The Time Of My Life was published and also became a bestseller.
Her ninth novel One Hundred Names was published in October 2012 and became a number one bestseller.
Her tenth novel How To Fall In Love was published last November and also became another bestseller.
To date Cecelia has sold over 22 million copies of her books worldwide.
Find Her Online: Website | Twitter | Instagram
~ DON'T MISS THIS GIVEAWAY! ~
2 Winners will receive finished copies of FLAWED & PERFECT, US Only. Ends on April 18th at Midnight EST!
a Rafflecopter giveaway