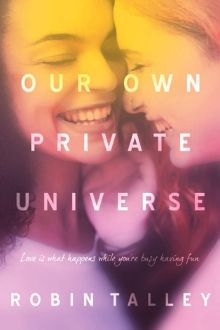 OUR OWN PRIVATE UNIVERSE
By: Robin Talley
Published By: Harlequin Teen
Release Date: Jan. 31, 2017
Series: None
Pages: 384
Genre: Contemporary
Reading Level: Young Adult
Source: Publisher
Buy the Book: Amazon
Goodreads Summary: Fifteen-year-old Aki Simon has a theory. And it's mostly about sex.

No, it isn't that kind of theory. Aki already knows she's bisexual—even if, until now, it's mostly been in the hypothetical sense. Aki has dated only guys so far, and her best friend, Lori, is the only person who knows she likes girls, too.

Actually, Aki's theory is that she's got only one shot at living an interesting life—and that means she's got to stop sitting around and thinking so much. It's time for her to actually do something. Or at least try.

So when Aki and Lori set off on a church youth-group trip to a small Mexican town for the summer and Aki meets Christa—slightly older, far more experienced—it seems her theory is prime for the testing.

But it's not going to be easy. For one thing, how exactly do two girls have sex, anyway? And more important, how can you tell if you're in love? It's going to be a summer of testing theories—and the result may just be love.

First Thought After Finishing: This is a book for teens, and I'm glad it exists for the teens who need it.
I'm always drawn to books with foreign settings, perhaps because I'm too poor right now to travel everywhere that I want to go. I also liked the idea of this book addressing a teenager exploring her sexuality on a church mission trip. Because this can be a contentious issue, especially the intersection of religion and LBGTQIA+ rights, I was curious to see how Robin Talley addressed it.
Aki is only fifteen, but she is ready for her life to begin. On her mission trip, she and her best friend make a pact to have a hookup before they go home. Enter Christa, a girl from another church who Aki finds fascinating. once they start talking, Aki is convinced that she wants her summer fling to be with Christa. Only that means keeping some secrets. And then a few more secrets. And Aki isn't the only one. Even with her family and her best friend Lori, it seems like what happens in Mexico might not stay in Mexico.
Confession time: This is the first YA book with a bisexual female that I've read. I wasn't positive what to expect, but I thought the author handled the subject matter well. Aki was ready to dive into new experiences headfirst, and her youthful enthusiasm shine through here. She and Christa were both sweet together and also a good reminder of what that first "real" crush can feel like. The thing I was most surprised about here was the discussion on safe sex for females--and it is part of why this book can be so important for teens. Sex is going to happen, but protection is important.
But this book isn't just about romance and sex. Aki and her friends discuss major issues in the world, exploring whether or not these issues should be supported. Aki also has to deal with secrets, keeping some for others and some of her own. Honestly, this book made me glad that I'm not a teenager anymore, where every action and word can be so easily documented. The drama these teens created for themselves, the challenges to lifelong friendship, and the mind games are all so accurate to what teens face and so saddening to me as an adult. I wanted to hug some and shake some sense into some others. But ultimately everyone found support somewhere, which is so essential for the issues they were dealing with.
Most Memorable Aspect: This book has real talk about a lot of issues, from sex to gay marriage to international war. But no matter who you're choosing to be, somewhere there will be a friend or family member who will be there for the ride.