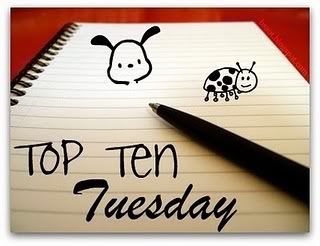 Top Ten Tuesday is a weekly meme hosted by
The Broke and the Bookish
. Each week there will be a new topic and a new list to make. Be sure to stop by the host blog to see all of the other blogs participating!
This week's topic:


Top Ten Books I'm Excited To Read in 2012
1. Lover Reborn by J.R. Ward - It seems like I've been waiting forever for this. I love Tohr and I can't wait to read his story.
2. Pandemonium by Lauren Oliver - I loved Delirium and can't wait to know what happens next!
3. Hidden by Sophie Jordan - I'm dying to know how this trilogy ends!
4. Arise by Tara Hudson - The first book was beautiful, and I'm sure this one will be as well.
5. A Breath of Eyre by Eve Marie Mont - This book reimagines Jane Eyre, and I can't wait to see how everything comes together!
6. Rebel Heart by Moira Young - I loved Blood Red Road and am eager to get back into this world.
7. Isla and the Boy Next Door by Stephanie Perkins - Stephanie Perkins' romances are always wonderful, and I'm really looking forward to this one!
8. Illuminate by Aimee Agresti - I love the premise of this book and can't wait to see how it all plays out!
9. Spark by Amy Kathleen Ryan - I'm really looking forward to knowing what happens next in this trilogy!
10. Outlander Series by Diana Gabaldon - I know these aren't new, but I have wanted to read these books for a while. This year I joined a challenge to read them and I'm looking forward to knowing what everyone is talking about!
What made your Top Ten list? Please leave a comment or link to your blog!