"Waiting on" Wednesday is a weekly event hosted by Jill at
Breaking the Spine
that spotlights upcoming releases that we're eagerly anticipating.
This week's selection is: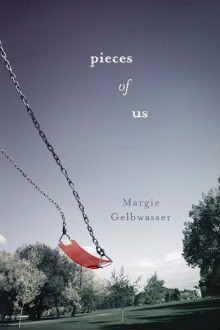 PIECES OF US
By: Margie Gelbwasser
Published By: Flux
Release Date: March 8, 2012
Preorder the Book: Amazon
Goodreads Summary: Two families. Four teens.
A summer full of secrets.

Every summer, hidden away in a lakeside community in upstate New York, four teens leave behind their old identities…and escape from their everyday lives.

Yet back in Philadelphia during the school year, Alex cannot suppress his anger at his father (who killed himself), his mother (whom he blames for it), and the girls who give it up too easily. His younger brother, Kyle, is angry too—at his abusive brother, and at their mother who doesn't seem to care. Meanwhile, in suburban New Jersey, Katie plays the role of Miss Perfect while trying to forget the nightmare that changed her life. But Julie, her younger sister, sees Katie only as everything she's not. And their mother will never let Julie forget it.

Up at the lake, they can be anything, anyone. Free. But then Katie's secret gets out, forcing each of them to face reality—before it tears them to pieces.
Why it's wanted:
This sounds like a very intense but very good contemporary. I am very curious to see how everything unfolds for these characters.