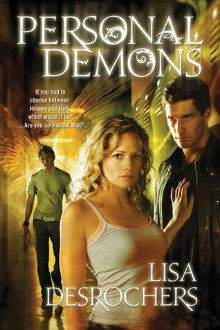 PERSONAL DEMONS
By: Lisa Desrochers
Published By: Tor Teen
Release Date: Sept. 14, 2010
Series: Personal Demons (#1)
Pages: 365
Genre: Paranormal Romance
Reading Level: Young Adult
Source: Bought
Buy the Book: Amazon
Goodreads Summary: Frannie Cavanaugh is a good Catholic girl with a bit of a wicked streak. She has spent years keeping everyone at a distance---even her closest friends---and it seems as if her senior year is going to be more of the same . . . until Luc Cain enrolls in her class. No one knows where he came from, but Frannie can't seem to stay away from him.

What she doesn't know is that Luc is on a mission. He's been sent from Hell itself to claim Frannie's soul. It should be easy---all he has to do is get her to sin, and Luc is as tempting as they come. Frannie doesn't stand a chance. But he has to work fast, because if the infernals are after her, the celestials can't be far behind. And sure enough, it's not long before the angel Gabriel shows up, willing to do anything to keep Luc from getting what he came for. It isn't long before they find themselves fighting for more than just Frannie's soul.

But if Luc fails, there will be Hell to pay . . . for all of them.
Personal Demons is a book that I might not have picked up had I not met Lisa Desrochers at BEA and then heard her read at another signing. Lisa's reading convinced me that I had to read these books, but it still took me way too long to start. Once I finally did, however, I didn't want to put the book down.
In the constant battle to win souls for Hell, Luc Cain is one of the best soldiers...and so he is sent to tag Frannie Cavanaugh. Until Luc showed up, Frannie had been an average girl - perhaps a bit wild and closed-off, but she has her reasons. After Luc's arrival, however, Frannie realizes that the average ship has sailed. Not only is Luc competing for her attention, but also Gabriel, who is sent from - you guessed it - heaven - comes to keep Frannie's soul from being tagged. However, nobody anticipated what a difficult job that would be. Frannie might be drawn to Luc, but that doesn't mean that she is completely unaffected by Gabriel. She knows this is more than simply a choice between two boys, but what will she ultimately decide?
I mentioned earlier that I might not have picked up this book on my own. The reason why: Personal Demons seems to have almost every trope/cliche in YA books. There are two hot guys who come to town to fight for a girl who doesn't realize that she's special, a stage set for an epic battle between good an evil, etc. etc. However, after hearing Lisa read (and reading a few chapters myself), I knew that I wouldn't care because the writing was
that
good. I loved Frannie's voice and character. She is authentic and real, complete with hilarious snark, and even though she is "special," she also has her secrets, which gave her even more depth. In addition, Luc and Gabe might be stereotypical, but I certainly didn't mind reading about them. Luc is the perfect bad boy, and Gabe is the perfect good guy. How can anyone choose only one? And with that, there are definitely some steamy (YA) scenes...smoke may start from the flames of Hell, but it also rises toward heaven...
In addition to Frannie and the guys, there are other aspects of the novel that I really enjoyed. Frannie's grandfather was another favorite character. Even though he didn't play a huge role, I liked the part he did have. There are also vivid depictions of Hell - I'm curious to see if we get such a clear picture of heaven in the next novel. Even though the story might seem predictable at first, Frannie's choice isn't actually so clear. I kept turning pages because I had to know what she would decide. And although the book is somewhat wrapped up at the end, I can't wait to see what happens next.
If you have been debating about whether you should read this book, debate no longer. If you enjoy paranormal romance, this is one angel and demon book you will not want to miss. I can't wait to read Original Sin!