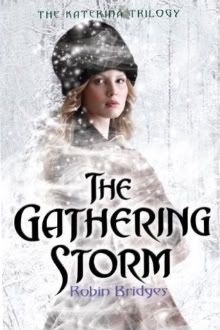 THE GATHERING STORM by Robin Bridges
St. Petersburg, Russia, 1888. As she attends a whirl of glittering balls, royal debutante Katerina Alexandrovna, Duchess of Oldenburg, tries to hide a dark secret: she can raise the dead. No one knows. Not her family. Not the girls at her finishing school. Not the tsar or anyone in her aristocratic circle. Katerina considers her talent a curse, not a gift. But when she uses her special skill to protect a member of the Imperial Family, she finds herself caught in a web of intrigue.
An evil presence is growing within Europe's royal bloodlines—and those aligned with the darkness threaten to topple the tsar. Suddenly Katerina's strength as a necromancer attracts attention from unwelcome sources . . . including two young men—George Alexandrovich, the tsar's standoffish middle son, who needs Katerina's help to safeguard Russia, even if he's repelled by her secret, and the dashing Prince Danilo, heir to the throne of Montenegro, to whom Katerina feels inexplicably drawn.
The time has come for Katerina to embrace her power, but which side will she choose—and to whom will she give her heart? (From Goodreads)
You can read my review here.
~INTERVIEW~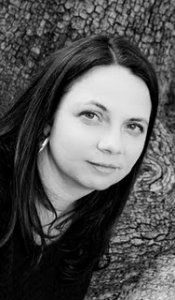 I'm very excited to have
Robin Bridges
here today. THE GATHERING STORM has been one of my favorite books so far this year and I'm looking forward to the release of THE UNFAILING LIGHT! Please take a few minutes to learn more about this amazing author!
If this were Twitter, how would you pitch The Gathering Storm in 140 characters or less?
In the midst of scheming vampires and vicious fae in 1880's Russia, Katerina of Oldenburg hides a dangerous secret: she can raise the dead.
What drew you to Imperial Russia as the setting for your book?
This story actually started with the setting. I've always loved Russian history and wanted to write a fantasy based in a Slavic-type kingdom.
If Katerina were offered the choice to exchange her abilities as a necromancer for another magical gift, what would she choose?
I think she'd love to be able to read George's mind, just as he can read hers.
You mentioned in the author's note of The Gathering Storm that you loved Russian fairy tales - do you have a favorite that you could share with us?
Ruslan and Ludmila was written by Alexander Pushkin and was based on the Russian fairy tales he'd heard as a child. Ludmila was the beautiful daughter of the Prince of Kiev and was engaged to the warrior Ruslan, but was stolen away by an evil wizard. The poem was turned into an opera by the Russian composer Glinka in the mid 1800's, so it's a story Katerina would have been familiar with. (It's one of my favorites because my great-grandmother's name was Ludmilla!)
Another favorite, the story of Koschei the Deathless, ended up being an inspiration for the lich tsar Konstantin in the Katerina trilogy!
In your journey as a debut author, from first draft to publication, what surprised you the most? What has been the most rewarding experience?
I think one of the most rewarding things for me has been the camaraderie between debut authors and all the online/ in-person friendships I've made with Elevensies/ Apocalypsies/ 2K12 classmates. And there's nothing like the feeling you get when you receive fan mail from a reader! My first fan letter had me walking on clouds for days!
If you could have dinner with any member (or members) of the Russian nobility from ages past, who would you pick and why?
Miechen was notorious for her dinner parties. She and her husband Grand Duke Vladimir were thrown out of a Saint Petersburg restaurant once for getting into a fight when Miechen flirted with a stage actor. The tsar, who was not amused by their antics, sent the couple to France until the scandal died down.
Can you tell us anything about The Unfailing Light?
Here's the jacket copy:
"Having had no choice but to use her power has a necromancer to save Russia from dark forces, Katerina Alexandrovna, Duchess of Oldenburg, now wants to forget that she ever used her special powers. She's about to set off to pursue her lifelong dream of attending medical school when she discovers that Russia's arch nemesis--who she thought she'd destroyed--is still alive. So on imperial orders, Katerina remains at her old finishing school. She'll be safe there, because the empress has cast a potent spell to protect it against the vampires and revenants who are bent on toppling the tsar and using Katerina for their own gains. But to Katerina's horror, the spell unleashes a vengeful ghost within the school, a ghost more dangerous than any creature trying to get in."
So… more monsters, more magic, and more smooching. :)
Thank you for stopping by! If you're curious about THE GATHERING STORM now (and you should be!), see below for details of how to win a copy!
~GIVEAWAY~
Because I really enjoyed this book and think others will too, you all have the chance to win a copy of THE GATHERING STORM! To enter, please fill out the form below.
This contest is open internationally as long as The Book Depository ships to your country. Must be 13 to enter. Please see my
Contest Policy
for more information.
This contest will close on Monday, Oct. 1 at 12:01am CST.