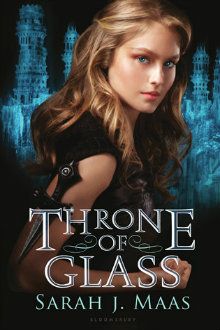 THRONE OF GLASS
By: Sarah J. Mass
Published By: Bloomsbury USA Children's
Release Date: Aug. 7, 2012
Series: Throne of Glass (#1)
Pages: 416
Genre: Fantasy
Reading Level: Young Adult
Source: TLA
Buy the Book: Amazon
Goodreads Summary: After serving out a year of hard labor in the salt mines of Endovier for her crimes, 18-year-old assassin Celaena Sardothien is dragged before the Crown Prince. Prince Dorian offers her her freedom on one condition: she must act as his champion in a competition to find a new royal assassin. Her opponents are men-thieves and assassins and warriors from across the empire, each sponsored by a member of the king's council. If she beats her opponents in a series of eliminations, she'll serve the kingdom for three years and then be granted her freedom. Celaena finds her training sessions with the captain of the guard, Westfall, challenging and exhilirating. But she's bored stiff by court life. Things get a little more interesting when the prince starts to show interest in her... but it's the gruff Captain Westfall who seems to understand her best. Then one of the other contestants turns up dead... quickly followed by another. Can Celaena figure out who the killer is before she becomes a victim? As the young assassin investigates, her search leads her to discover a greater destiny than she could possibly have imagined.
Throne of Glass was a highly anticipated title this year, and after reading it, I can see why. I've been reading more fantasy books lately, and Throne of Glass can definitely hold its own beside some of the other great fantasy titles. From the very beginning, this book sweeps you away to another world and keeps you there as you watch the story unfold.
Celaena Sardothien is one of Ardalan's most famous and feared assassins. As such, when she is finally caught, she is sentenced to the hard labor camps in Endovier for her crimes. However, because of her reputation, she's given a chance for freedom from the prince himself. If she will serve as his champion in a competition to find a new royal assassin, and if she wins, then she can earn her freedom. Celaena agrees and is taken to the palace to train with none other than the Captain of the Guard before the competition begins. But it seems that there is much more happening at the palace than just a competition. Champions are winding up dead outside of challenges, and it seems like evil magic might be the cause. Fortunately, Celaena is not on her own. She becomes friends with the Princess Nehemia at the castle and also becomes closer to the Prince and Captain Westfall. But will all of her training be enough for her to figure out what is happening and, more importantly, to win?
I love fantasy books, especially if they are fantasy books that include sword fights and similar styles of combat. Throne of Glass has that and more. From a kick-butt female assassin to intense action to two love interests, this book has the recipe for a great start to a trilogy. Celaena is a strong character, despite - or perhaps because of - everything she's been through. Her secrets and her past are revealed gradually through the book, making her all the more intriguing at the beginning and helping you connect with her by the end. I enjoyed watching her friendship with Nehemia develop. Friendship was something that Celaena seemed to lack in her childhood, and it was nice to see it happen here. I also liked the magic thread that was woven through this book, and I'm hoping to see it developed more in the next installment.
Finally, there are the love interests, Prince Dorian and Captain Westfall. I'm hesitant to call it a triangle, exactly, but there is something there. I'll be curious to see how everything plays out for them, as it certainly kept things interesting in the first book. And while Throne of Glass never wanted for action or intrigue, I found that it wasn't a quick read. I wanted to take my time and take it in, as these characters seemed more complex than some. And in a way, this made the book all the more satisfying.
Throne of Glass is a fantastic debut from Sarah J. Mass, worthy of the hype that it has gotten. It is a thrilling fantasy novel, and I look forward to seeing what happens next!