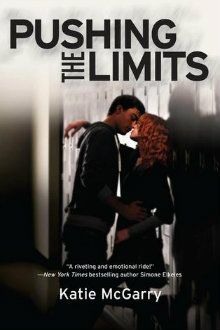 PUSHING THE LIMITS
By: Katie McGarry
Published By: Harlequin Teen
Release Date: July 31, 2012
Series: None
Pages: 384
Genre: Contemporary Fiction
Reading Level: Young Adult
Source: ALA
Buy the Book: Amazon
Goodreads Summary: No one knows what happened the night Echo Emerson went from popular girl with jock boyfriend to gossiped-about outsider with "freaky" scars on her arms. Even Echo can't remember the whole truth of that horrible night. All she knows is that she wants everything to go back to normal. But when Noah Hutchins, the smoking-hot, girl-using loner in the black leather jacket, explodes into her life with his tough attitude and surprising understanding, Echo's world shifts in ways she could never have imagined. They should have nothing in common. And with the secrets they both keep, being together is pretty much impossible.

Yet the crazy attraction between them refuses to go away. And Echo has to ask herself just how far they can push the limits and what she'll risk for the one guy who might teach her how to love again.
When I first heard about Pushing the Limits, I heard that it was similar to Perfect Chemistry by Simone Elkeles. Because I enjoyed that book and because I like darker contemporary fiction, I knew that I had to pick up this book. And I am so glad that I did! I haven't read a book that was quite so emotional in a long time.
Echo Emerson is trying her best to live with the holes in her memory. She knows that she cannot have contact with her mother, and that there are scars all over her arms, but that is about all she knows. That, and her father wants to start a new family with his second wife Ashley. After one of their therapy sessions, she runs into Noah Hutchins, the hot womanizer of their grade. Echo wants nothing to do with him, but the counselor Mrs. Collins has other ideas. Echo and Noah find themselves thrown together, trying to fight an undeniable attraction and realizing that each might be just the person the other needs. But after what they've both been through, can they risk trusting - and loving - someone else again? And how far can they both go before one of them has reached their limit?
Pushing the Limits is one of those books that draws you in and takes hold of your emotions so fully that you feel as if you are living the story rather than just reading it. I had to know what happened to give Echo her scars, and I had to know if there was a happy ending here. There is so much emotion packed into this book. Both Echo and Noah have their own emotional baggage that they are sorting through, and it made me care about both of them that much more. I wanted so much for them both to heal and to find happiness with each other. With that, I loved the dual points of view in this book. I enjoyed the glimpses into both Echo and Noah's life, and that made the book even more powerful. Noah was especially wonderful - he's a bad boy with a hard exterior but soft interior, just the right combination to be completely swoon-worthy. He might even be a new book boyfriend.
This book deals with a lot of issues, from mental disorders to broken families and the ramifications of both. In addition, it looks at both friendships and love, and how these can help or hurt your everyday life. It has very serious undertones, and even though it isn't always an easy read, it is an excellent one. The stories of Echo and Noah are ones that won't soon be forgotten.
Pushing the Limits is a book that you will want to move to the top of your to-read list. There is going to be a companion novel following, and I cannot wait to see what Katie McGarry writes in it!

~GIVEAWAY~
I am very excited to have one copy of Pushing the Limits to give away! Please note that the book will be coming directly from the publisher; please allow ample time for the book to arrive if you win.
The contest is open to residents of the US and Canada only. Must be 13 to enter. Please see my
Contest Policy
for more information.
This contest will close on Friday, Sept. 14 at 12:01 AM.