Opening Lines is a new feature here on Portrait of a Book that showcases the first lines of recent and/or upcoming releases. If you're looking for your next read, let these first lines help you decide!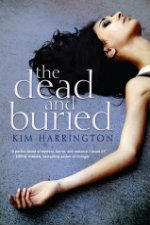 THE DEAD AND BURIED
By: Kim Harrington
Published By: Scholastic Point
Release Date: Jan. 1, 2013
Buy the Book: Amazon
A haunted house, a buried mystery, and a very angry ghost make this one unforgettable thriller.
Jade loves the house she's just moved into with her family. She doesn't even mind being the new girl at the high school: It's a fresh start, and there's that one guy with the dreamy blue eyes. . . . But then things begin happening. Strange, otherworldly things. Jade's little brother claims to see a glimmering girl in his room. Jade's jewelry gets moved around, as if by an invisible hand. Kids at school whisper behind her back like they know something she doesn't.
Soon, Jade must face an impossible fact: that her perfect house is haunted. Haunted by a ghost who's seeking not just vengeance, but the truth. The ghost of a girl who ruled Jade's school — until her untimely death last year. It's up to Jade to put the pieces together before her own life is at stake. As Jade investigates the mystery, she discovers that her new friends in town have more than a few deep, dark secrets. But is one of them a murderer?
"Colby had a secret."
THE ESSENCE (THE PLEDGE #2)
By: Kimberly Derting
Published By: Margaret K. McElderry
Release Date: Jan. 1, 2013
Buy the Book: Amazon
"Danger, dread, mystery, and romance" (Booklist) continue in the second book of The Pledge trilogy, as Charlie's reign is under siege from the most unusual of enemies.
At the luminous conclusion of The Pledge, Charlaina defeated the tyrant Sabara and took her place as Queen of Ludania. But Charlie knows that Sabara has not disappeared: The evil queen's Essence is fused to Charlie's psyche, ready to arise at the first sign of weakness.
Charlie is not weak, but she's being pushed to the brink. In addition to suppressing the ever-present influence of Sabara, she's busy being queen—and battling a growing resistance determined to return Ludania to its discriminatory caste system. Charlie wants to be the same girl Max loves, who Brook trusts, but she's Your Majesty now, and she feels torn in two.
As Charlie journeys to an annual summit to meet with leaders of nearby Queendoms—an event where her ability to understand all languages will be the utmost asset—she is faced with the ultimate betrayal. And the only person she can turn to for help is the evil soul residing within.
"He approached respectfully, cautiously. Warily."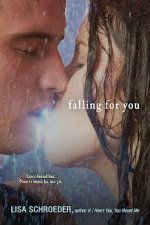 FALLING FOR YOU
By: Lisa Schroeder
Published By: Simon Pulse
Release Date: Jan. 1, 2013
Buy the Book: Amazon
Rae's always dreamed of dating a guy like Nathan. He's nothing like her abusive stepfather—in other words, he's sweet. But the closer they get, the more Nathan wants of her time, of her love, of her...and the less she wants to give.
As Rae's affection for Nathan turns to fear, she leans on her friend Leo for support. With Leo, she feels lighter, happier. And possessive Nathan becomes jealous.
Then a tragedy lands Rae in the ICU. Now, hovering between life and death, Rae must find the light amid the darkness…and the strength to fight for life and the love she deserves.
"At last I can breathe."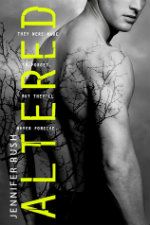 ALTERED
By: Jennifer Rush
Published By: Little, Brown, & Co.
Release Date: Jan. 1, 2013
Buy the Book: Amazon
When you can't trust yourself, who can you believe?
Everything about Anna's life is a secret. Her father works for the Branch at the helm of its latest project: monitoring and administering treatments to the four genetically altered boys in the lab below their farmhouse. There's Nick, Cas, Trev . . . and Sam, who's stolen Anna's heart. When the Branch decides it's time to take the boys, Sam stages an escape, killing the agents sent to retrieve them.
Anna is torn between following Sam or staying behind in the safety of her everyday life. But her father pushes her to flee, making Sam promise to keep her away from the Branch, at all costs. There's just one problem. Sam and the boys don't remember anything before living in the lab—not even their true identities.
Now on the run, Anna soon discovers that she and Sam are connected in more ways than either of them expected. And if they're both going to survive, they must piece together the clues of their past before the Branch catches up to them and steals it all away.
"For most of the last four years, I wasn't allowed in the lab."
Do any of these opening lines grab your attention? What are your favorite first lines that you've read lately?