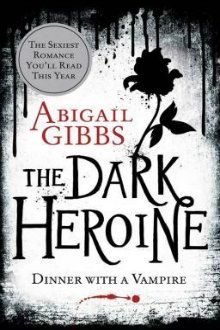 THE DARK HEROINE: DINNER WITH A VAMPIRE
By: Abigail Gibbs
Published By: Harper Voyager
Release Date: Oct. 11, 2011
Series: The Dark Heroine (#1)
Pages: 549
Genre: Paranormal
Reading Level: Young Adult
Source: Publisher
Buy the Book: Amazon
Goodreads Summary: The sexiest romance you'll read this year...

One moment can change your life forever...

For Violet Lee, a chance encounter on a darkened street draws her into a world beyond her wildest imaginings, a timeless place of vast elegance and immeasurable wealth – of beautiful mansions and lavish parties – where a decadent group of friends live for pleasure alone. A place from which there is no escape...no matter how hard Violet tries.

Yet all the riches in the world can't mask the darkness that lies beneath the gilded surface, embodied in the charismatic but dangerous Kaspar Varn.

Violet and Kaspar surrender to a passion that transcends their separate worlds – but it's a passion that comes at a price…
I first heard this book described as "Twilight meets 50 Shades." I love Twilight, I'm not opposed to reading books like 50 Shades of Gray, and I will probably always have a soft spot for vampire romances. I was looking forward to reading this book; however, overall I found myself disappointed with it.
When Violet Lee is caught witnessing a bloody massacre in London, she expects that she will be killed as well. But instead, the leader of the killing group takes her back to his house. That leader is none other than Kaspar Varn, who Violet soon learns is the heir to the throne...the vampire throne. Slowly she has to accept that there are other beings and worlds that she never imagined existed. As if that isn't enough, she's started hearing a voice as well as having nightmares of things that are really happening in other places. Even her father isn't the man she always believed him to be. And in the midst of all of this, Violet finds herself strangely drawn to Kaspar, despite all of the things she endures while staying at the Varn castle. Will Violet ever return to her life as a human, or will she choose to join a vampire world forever, despite the consequences it might have?
There were some good things about this book. The story itself has good ideas and was well-written, as well as showing another time of vampire world. Over the course of the book, Violet becomes a stronger character, willing to do what she feels is right to keep those that she cares about safe. Even though I didn't agree with Kaspar on everything, I did enjoy his character as I came to know him.
However, I found it difficult to really connect with the characters, and the book didn't really hold my interest throughout it. There were good scenes, but I found that other portions of the book were slow and not well-integrated into the story. I would have liked to have seen Violet have a friend that she could turn to rather than being so isolated. The ending of the book was promising for what could come in the next one, however.
I know other people have really enjoyed this book, so be sure to look at other reviews:
Once Upon a Twilight
Goodreads Reviews