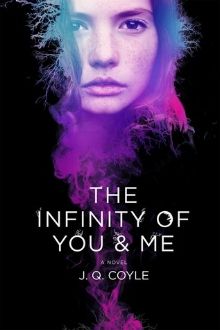 THE INFINITY OF YOU & ME
By: J.Q. Coyle
Published By: St. Martin's Griffin
Release Date: Nov. 8, 2016
Series: None
Pages: 256
Genre: Sci-Fi
Reading Level: Young Adult
Source: Netgalley
Buy the Book: Amazon
Goodreads Summary: What if every life-altering choice you made could split your world into infinite worlds?

Almost fifteen, Alicia is smart and funny with a deep connection to the poet Sylvia Plath, but she's ultimately failing at life. With a laundry list of diagnoses, she hallucinates different worlds—strange, decaying, otherworldly yet undeniably real worlds that are completely unlike her own with her single mom and one true friend. In one particularly vivid hallucination, Alicia is drawn to a boy her own age named Jax who's trapped in a dying universe. Days later, her long-lost father shows up at her birthday party, telling her that the hallucinations aren't hallucinations, but real worlds; she and Jax are bound by a strange past and intertwining present. This leads her on a journey to find out who she is while trying to save the people and worlds she loves. J.Q. Coyle's The Infinity of You & Me is a wild ride through unruly hearts and vivid worlds guaranteed to captivate.

First Thought After Finishing: This was such an inventive story!
The Infinity of You & Me was an unexpected book. Initially I was drawn to the premise and the mention of Sylvia Plath, whose poetry has always had a mysterious yet intriguing complexity.
Alicia believes that she is going crazy with her hallucinations—they aren't simply flashes, but other worlds that seem like more than dreams. There is even a boy that she finds herself drawn to. Her mom has done everything that she can to help her, especially since her dad is not in the picture, and her one friend is school is the only one who can help her stay sane. However, at a birthday party, Alicia learns that her world—and even her hallucinations—are not what they seemed to be. As she tries to come to grips with this new reality, she realizes that one decision can change everything and learning who you can trust can make or break your world.
At the beginning, this book was hard to read. Alicia's hallucinations were disjointed and confusing. While this may have reflected her tumultuous mind, it made for difficult reading. However, as the story moved forward, the hallucinations became worlds with unique stories and characters to anchor them. As the truth behind her hallucinations was revealed, they became fascinating adventures that left me wanting more. I found myself eagerly turning pages to see what would happen next.
While the worlds and the adventure kept the story intriguing, I found myself wanting more from the characters. I wished that the relationship could have been developed more. Alicia spent a lot of time trying to figure out who she wanted to be, and that felt unfinished still by the end of the book. If there happens to be a sequel or companion novel, I'd be glad to learn more about the worlds and the characters.
Most Memorable Aspect: The stories within the story. I would love to know how all of the different possibilities played out!