Book Blogger Hop is a weekly meme hosted by
Jennifer at Crazy-for-Books
. In the spirit of the Twitter Friday Follow, the Book Blogger Hop is a place just for book bloggers and readers to connect and share our love of the written word! This weekly BOOK PARTY is an awesome opportunity for book bloggers to connect with other book lovers, make new friends, support each other, and generally just share our love of books! It will also give blog readers a chance to find other book blogs to read! So visit Crazy-for-Books to grab the logo, post about the Hop on your blog, and start HOPPING through the list of blogs that are posted in the Linky list there!
This week's question:
"What's the ONE GENRE that you wish you could get into, but just can't?"
I actually read a variety of genres, so this question is hard. But I think I'd have to choose chick lit. I've only read a few books in this genre, namely because most of the synopses that I've read don't hold my interest. However, I have lots of friends that read and love chick lit books, and I do wish I could discuss them.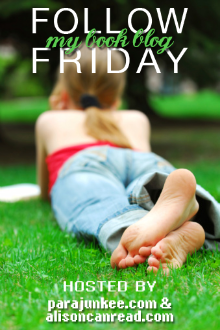 Follow Friday is hosted by
Parajunkee
and
Allison Can Read
. Visit either of their blogs for complete rules of the following fun!
This week's question:
"Name 3 authors that you would love to sit down and spend an hour or a meal with just talking about either their books or get advice on writing from?"
This is so very tough! I would have to say Terry Goodkind, because he has a very interesting philosophy on life and the world he built and details in his books are incredible. Then there is J.R. Ward. I might be a tad (okay, very) addicted to the Black Dagger Brotherhood books. I also love her writing style. Last but certainly not least, I would choose J.K. Rowling. The Harry Potter books continue to be amazing every time I reread them, and even though the last movie has come out, I'm still not ready to let the characters and the world go.
What are your answers? Please leave a comment or a link to your blog!