Book Blogger Hop is a weekly meme hosted by
Jennifer at Crazy-for-Books
. In the spirit of the Twitter Friday Follow, the Book Blogger Hop is a place just for book bloggers and readers to connect and share our love of the written word! This weekly BOOK PARTY is an awesome opportunity for book bloggers to connect with other book lovers, make new friends, support each other, and generally just share our love of books! It will also give blog readers a chance to find other book blogs to read! So visit Crazy-for-Books to grab the logo, post about the Hop on your blog, and start HOPPING through the list of blogs that are posted in the Linky list there!
This week's question:
"Highlight one book you have received this week (for review, from the library, purchased at the store, etc.) that you can't wait to dig into!"
I've actually already started reading this book - it's
Forbidden
by Tabitha Suzuma. This book deals with some difficult subject matters, but so far it is excellently written and very moving. The other new book that I've bought is
Ruby Red
by Kerstin Gier.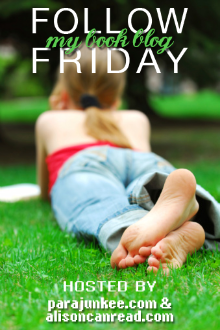 Follow Friday is hosted by
Parajunkee
and
Allison Can Read
. Visit either of their blogs for complete rules of the following fun!
This week's question:
"Let's step away from books for a second and get personal. What T-Shirt slogan best describes you?"
I might be taking the easy way out here, but at BEA and ALA Sourcebooks had t-shirts that said "Authors are my rockstars." The other option would be one that many musicians have: "I can't, I have rehearsal." Chances are that I'm either in a practice room or reading, so both of these would fit perfectly!
What are your answers? Please leave a comment or a link to your blog!