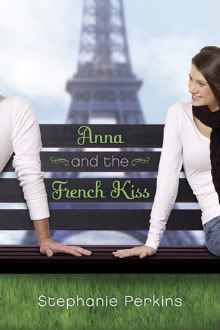 ANNA AND THE FRENCH KISS
By: Stephanie Perkins
Published By: Dutton Juvenile
Release Date: Dec. 2, 2010
Series: None
Pages: 372
Genre: Contemporary Romance
Reading Level: Young Adult
Source: Bought
Buy the Book: Amazon
Goodreads Summary: Anna is looking forward to her senior year in Atlanta, where she has a great job, a loyal best friend, and a crush on the verge of becoming more. Which is why she is less than thrilled about being shipped off to boarding school in Paris - until she meets Etienne St. Clair: perfect, Parisian (and English and American, which makes for a swoon-worthy accent), and utterly irresistible. The only problem is that he's taken, and Anna might be, too, if anything comes of her almost-relationship back home.

As winter melts into spring, will a year of romantic near - misses end with the French kiss Anna - and readers - have long awaited?
I have to admit that I had this book for a while before I read it. I read much more paranormal or fantasy than contemporary, and even though so many people loved this book, it seemed like it would be a frivolous read that would appeal more to high school students than an adult reading YA. But I finally gave in and read this book, and I loved it.
Anna and the French Kiss might be a romance, but it doesn't follow the traditional models. There is no insta-love, and the story isn't about a perfect relationship that has to endure challenges. Instead, the novel is built around one question: Will they or won't they? Anna's father has decided to send her to boarding school in Paris, and she resents having to leave behind her friends and her maybe-boyfriend for a city and place she doesn't know. However, her neighbor comes to welcome her the first night, and Anna soon finds herself in a new circle of friends. This circle includes Etienne St. Clair, the swoon-worthy boy with a British accent. As Anna comes to know him better, she can't help but feel chemistry between them. However, she still has attachments back home, and St. Clair has a girlfriend. But in the City of Lights, anything can happen...
There are so many things to love about this book, but the characters are especially great. I really felt that I knew each and every one of them, quirks, flaws, and all. Anna and St. Clair really came to life, Anna with her sense of humor, her love of movies, and her emotions, and St. Clair with his charm, his love of history, and his (sometimes maddening) loyalty. I loved watching them grow closer, even if I did want to yell "Just kiss already!" in so many places. The longing and tension were so clearly felt, as were the attraction and the budding feelings. And this is a given, but I also loved the setting. It was so much fun to go on tours of the city with Anna and St. Clair - because really, who wouldn't want him for a tour guide?
Even though this story was set in a Parisian boarding school, there were plenty of moments that felt just like a regular high school. The fights between friends, the secrets, and the moments of bullying that happen all the time to teenagers happen here as well. While at times things were frustrating, everything seemed very realistic, and it was easy to get caught up in the story. I did enjoy the ending; sometimes it is refreshing to have everything wrapped up tidily.
In her debut novel, Perkins weaves a story of longing, love, and life, one that is realistic yet engaging, and one that is guaranteed to leave you with a smile. I cannot wait to read the companion novel, Lola and the Boy Next Door!