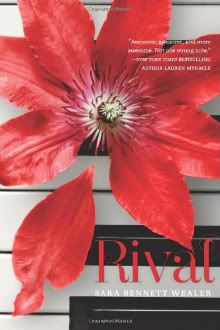 RIVAL
By: Sara Bennett Wealer
Published By: Harper Teen
Release Date: Feb. 15, 2011
Series: None
Pages: 336
Genre: Contemporary
Reading Level: Young Adult
Source: Bought
Buy the Book: Amazon
Goodreads Summary: What if your worst enemy turned out to be the best friend you ever had?

Meet Brooke: Popular, powerful and hating every minute of it, she's the "It" girl at Douglas High in Lake Champion, Minnesota. Her real ambition? Using her operatic mezzo as a ticket back to NYC, where her family lived before her dad ran off with an up and coming male movie star.

Now meet Kathryn: An overachieving soprano with an underachieving savings account, she's been a leper ever since Brooke punched her at a party junior year. For Kath, music is the key to a much-needed college scholarship.

The stage is set for a high-stakes duet between the two seniors as they prepare for the prestigious Blackmore competition. Brooke and Kathryn work toward the Blackmore with eyes not just on first prize but on one another, each still stinging from a past that started with friendship and ended in betrayal. With competition day nearing, Brooke dreams of escaping the in-crowd for life as a professional singer, but her scheming BFF Chloe has other plans. And when Kathryn gets an unlikely invitation to Homecoming, she suspects Brooke of trying to sabotage her with one last public humiliation.

As pressures mount, Brooke starts to sense that the person she hates most might just be the best friend she ever had. But Kathryn has a decision to make. Can she forgive? Or are some rivalries for life?
As a singer myself, I've wanted to read this book since I first heard about it. Even without the description, the cover alone would have drawn me to this book. Having witnessed firsthand how deeply rivalries can run between singers at the college level, I was very curious to see how this drama would play out in a high school chorus setting.
Kathryn has become a social outcast thanks to Brooke. Since Brooke punched her junior year, tensions have been high, and this is not helped by the fact that they have to see each other in choir every day. This rivalry only escalates as the Blackmore competition approaches; jealously and fear of secrets coming to light seem to be a constant state of being for both girls. But in the midst of this, they both cannot help but remember their junior year and the evens that led them to dislike each other so strongly. In fact, Rival alternates between both girls' points of view, as well as between memories and the present day, which really show this contrast and brings the reader deeper into the world of both girls.
I loved getting to know Kathryn and Brooke, and I could sympathize with both of them. Kathryn longs for the things that she has never had - popularity, money, the chance to really be seen - and Brooke is caught between what she wants and what everyone expects of her. I would say that these two aren't your typical high school girls, but they are; however, they are not the stereotypical girls found in so many stories. Instead, they both have their moments of goodness and their moments of poor decisions. Sometimes I was frustrated with them, but everything seemed so familiar from my own days in choir that I felt that I was attending school right along with Kathryn and Brooke.
I also enjoyed the scenes in which Kathryn and Brooke discussed music and opera. However, these conversations were not so predominant that someone who is not a singer couldn't follow them. The Blackmore competition may have been the driving force behind many of the events and the reminiscing, but it was not always the focus. However, the competition is part of the story, and while I was slightly surprised by the competition results and the ending of the book, I felt that it was both realistic and the way things should have been.
In Rival, Sarah Bennett Wealer has spun a story that is so realistic and engaging that you can't help but be drawn into it. Despite the frustrations, I had to know if Kathryn and Brooke would be okay after all was said and done. I will look forward to reading what Wealer writes next!