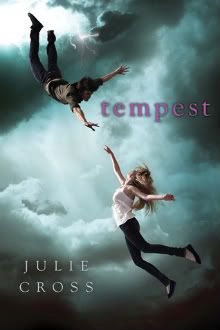 TEMPEST
By: Julie Cross
Published By: St. Martin's Griffin
Release Date: Jan. 17, 2012
Series: Tempest (#1)
Pages: 352
Genre: Sci-Fi
Reading Level: Young Adult
Source: ALA
Buy the Book: Amazon
Goodreads Summary: The year is 2009. Nineteen-year-old Jackson Meyer is a normal guy...he's in college, has a girlfriend...and he can travel back through time. But it's not like the movies – nothing changes in the present after his jumps, there's no space-time continuum issues or broken flux capacitors – it's just harmless fun.

That is...until the day strangers burst in on Jackson and his girlfriend, Holly, and during a struggle with Jackson, Holly is fatally shot. In his panic, Jackson jumps back two years to 2007, but this is not like his previous time jumps. Now he's stuck in 2007 and can't get back to the future.

Desperate to somehow return to 2009 to save Holly but unable to return to his rightful year, Jackson settles into 2007 and learns what he can about his abilities.

But it's not long before the people who shot Holly in 2009 come looking for Jackson in the past, and these "Enemies of Time" will stop at nothing to recruit this powerful young time-traveler. Recruit...or kill him.

Piecing together the clues about his father, the Enemies of Time, and himself, Jackson must decide how far he's willing to go to save Holly...and possibly the entire world.
October 7, 2007
"Are you okay? You look really...pale." Holly's voice, like it was coming from a distance.

Both of their faces spun in front of me and then I just closed my eyes and fell into nothing.
Does that teaser have you hooked? It should! I have to admit that I'm always a little hesitant to read sci-fi books. I had generally steered clear of them until I read Ender's Game, and that opened the door, showing me that the story of sci-fi books can be so good that you forget there's any science involved while you're reading. Tempest fits into this same category.
Jackson Meyer is just like any other college guy...except he can travel through time. He's never been able to go to the future, and even his jumps to the past aren't that exciting - just a few days back, and nothing is different when he returns. Then he makes the jump that changes everything. After watching his girlfriend, Holly, get shot, he makes his biggest jump yet: back to 2007. And no matter what he does, he can't seem to get back to 2009. However, while he's in 2007 and making other jumps, he stumbles onto some surprising news - his life and he himself aren't what he always believed. Things far stranger and much larger than just his ability to travel through time begin to come to light, and Jackson must figure out how to protect himself and those he loves. But can he do it in time?
With time travel, mystery, and a sweet romance, Tempest delivers one non-stop ride. Even though the book started out slowly, once Jackson started unraveling the mystery of who and what he was, the action picked up and almost raced to the end. I really appreciated the new spin on time travel in this book and the fact that everything involved the past (and not the distant past) rather than the future. I also enjoyed Jackson's point of view and the direct style of writing. It really brought things to life in both the past and the present scenes. As for the characters, in addition to Jackson, I especially enjoyed Adam. His ability to think outside the box was definitely refreshing. I am also very curious about Emily and will look forward to seeing more of her in the future.
I will say that at times this book was a bit confusing. Even though the time jumps were laid out quite well, occasionally I had to reread a bit to make sure all of my facts were straight. In addition, I found it slightly difficult to relate to Holly. But as with the other characters, I am eager to see what the next book will bring for her.
If science fiction isn't for you, don't let that stop you from reading Tempest, because there is so much more than time travel in this book. Julie Cross has created a fascinating story in her debut novel, and I can't wait to read more!





~ GIVEAWAY ~



There are five signed, finished copies of TEMPEST being given away as part of this tour! You can enter to win on each blog for up to 15 chances of winning. To enter, fill out the form here.

Missed any of the stops on the tour? Find a complete list here.