Book Blogger Hop is a weekly meme hosted by Jennifer at
Crazy-for-Books
. In the spirit of the Twitter Friday Follow, the Book Blogger Hop is a place just for book bloggers and readers to connect and share our love of the written word! This weekly BOOK PARTY is an awesome opportunity for book bloggers to connect with other book lovers, make new friends, support each other, and generally just share our love of books! It will also give blog readers a chance to find other book blogs to read! So visit Crazy-for-Books to grab the logo, post about the Hop on your blog, and start HOPPING through the list of blogs that are posted in the Linky list there!
This week's question:
Coming soon!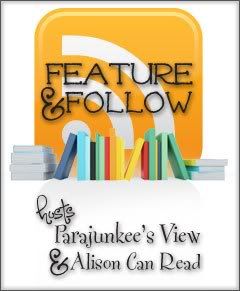 Follow Friday is hosted by
Parajunkee
and
Allison Can Read
. Visit either of their blogs for complete rules of the following fun!
This week's question:
"Which book genre do you avoid at all costs and why?"
I'm having a very hard time thinking of a genre I completely avoid. Generally I would say biography/memoirs, but there are a very few I would read. Aside from that, the genres I tend to steer clear from are adult mystery/thrillers, regular romance novels, and chick lit books. As someone in her early twenties I often find it hard to connect with the characters and stories in these novels. I find the stories in YA much more appealing...though I certainly won't say no to a good paranormal romance...
What are your answers? Please leave a comment or a link to your blog!