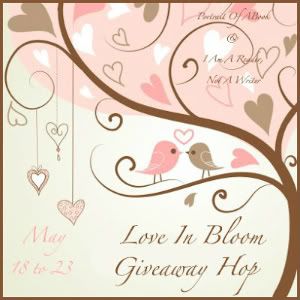 Love in Bloom
Giveaway Hop

Featuring Lighthearted/Contemporary Young Adult Romance
& Sweet, Clean Adult Romance

Hosted by I Am A Reader, Not A Writer & Portrait of a Book

May 18th to 23rd
Hop Rules
~You must host a giveaway on your site. You are responsible for obtaining a prize for giveaway and taking care of the shipping charges.

~You must giveaway a contemporary/lighthearted young adult romance or a sweet, clean adult romance.

~You may provide a list of books for the winner to choose from.

~No gift cards.

~Your giveaway post must include the hop image & linky (or links to the host's sites if you can't get the linky to work).

~Please only 1 mandatory entry & up to 4 optional entries - Keep It Simple!

~Your post must be live by 12:01 EST on May 18th.

~The giveaway must be specifically for this hop.

~Your site & giveaway must be family friendly.
Sign up below!