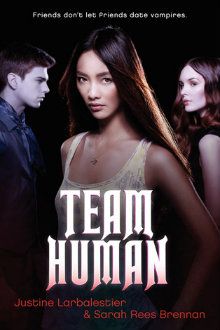 TEAM HUMAN
By: Justine Larbalestier and Sarah Rees Brennan
Published By: Harper Teen
Release Date: July 3, 2012
Series: None
Pages: 352
Genre: Paranormal
Reading Level: Young Adult
Source: TLA
Buy the Book: Amazon
Goodreads Summary: Just because Mel lives in New Whitby, a city founded by vampires, doesn't mean she knows any of the blood-drinking undead personally. They stay in their part of town; she says in hers. Until the day a vampire shows up at her high school. Worse yet, her best friend, Cathy, seems to be falling in love with him. It's up to Mel to save Cathy from a mistake she might regret for all eternity.

On top of trying to help Cathy (whether she wants it or not), Mel is investigating a mysterious disappearance for another friend and discovering the attractions of a certain vampire wannabe. Combine all this with a cranky vampire cop, a number of unlikely romantic entanglements, and the occasional zombie, and soon Mel is hip-deep in an adventure that is equal parts hilarious and touching.

Acclaimed authors Justine Larbalestier and Sarah Rees Brennan team up to create a witty and poignant story of cool vampires, warm friendships, and the changes that test the bonds of love.
We all know how much fun it is to pick teams in books, not only with guys, but also with types of paranormal creatures. In so many books, all of the humans want to become whatever the paranormal creature is. Team Human, however, is a book that champions...you guessed it...humans.
Mel lives in New Whitby, a city founded by vampires, but that doesn't mean she wants to be one. In fact, she's perfectly happy keeping to the human side of town and not knowing any vampires. But all of that goes out the window when a vampire named Francis shows up at her school. Soon Mel's friend Cathy is infatuated with Francis, and it seems that Francis might return her feelings. The only problem, at least as far as Mel is concerned - Cathy is so smitten that she wants to become a vampire. As if all that weren't enough to deal with, Mel is trying to help another friend solve a mysterious disappearance. But what will happen to Mel when she starts attracting the attention of someone from the vampire side of town? Will she change to Team Vampire or remain Team Human?
When I first saw the cover and title of this book, I was really excited to read it. I expected it to be a parody of sorts of a certain well-known vampire story, and in a way, it was. Aside from that, however, there were some good things about this book. Mel is a great character. She's loyal to her friends and wants what she believes is best for them, and she's willing to help them in any way she can. I enjoyed watching her relationship develop with Kit. It was both funny and sweet, helping to round out the story. Then there was Francis. Who doesn't like a good Victorian hero - even if he is a vampire? Unfortunately, because the book is from Mel's perspective and Mel is staunchly Team Human, he came across as slightly irritating rather than the debonaire gentleman he could have been otherwise.
In addition, though this book was amusing and funny, I wanted more from it. The humor alone wasn't enough to sell me on the book; I found myself wanting a more intriguing plot. The mystery aspect wasn't difficult to solve, and I would have loved to see more of the relationship aspects of the book fleshed out. Despite this, there were several touching moments at the end of the book in which I could really sympathize with the characters.
Team Human is a quick, fun read that is guaranteed to make you laugh in more than a few places. And who knows...it might change your mind about being Team Vampire.