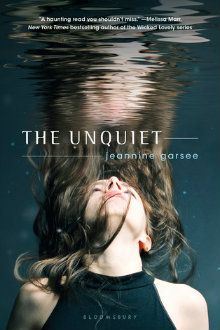 THE UNQUIET
By: Jeannine Garsee
Published By: Bloomsbury
Release Date: July 17, 2012
Series: None
Pages: 388
Genre: Contemporary Fiction / Paranormal
Reading Level: Young Adult
Source: TLA
Buy the Book: Amazon
Goodreads Summary: Sixteen-year-old Rinn Jacobs has secrets: One, she's bipolar. Two, she killed her grandmother.

After a suicide attempt, and now her parents' separation, Rinn and her mom move from California to the rural Ohio town where her mother grew up. Back on her medications and hoping to stay well, Rinn settles into her new home, undaunted by the fact that the previous owner hanged herself in Rinn's bedroom. At school, her classmates believe the school pool is haunted by Annaliese, a girl who drowned there. But when a reckless séance goes awry, and terrible things start happening to her new friends—yet not to her—Rinn is determined to find out why she can't be "touched" by Annaliese...or if Annaliese even exists.

With the help of Nate Brenner, the hunky "farmer boy" she's rapidly falling for, Rinn devises a dangerous plan to uncover the truth. Soon reality and fantasy meld into one, till Rinn finds it nearly impossible to tell the difference. When a malevolent force threatens the lives of everyone she cares about--not to mention her own--she can't help wondering: who should she really be afraid of?

Annaliese? Or herself?
The Unquiet was one of the books I was very excited for this year, and it didn't disappoint. With all of the elements this story blended together, it was extremely captivating, keeping me reading late into the night to find out what happened.
Rinn Jacobs never expected to find herself in the middle of rural Ohio with only her mother. But when her bipolar disorder led to the death of her grandmother and her suicide attempt, her parents decide that time away from California would be good for her. Even though Rinn thought life in a small town would be incredibly dull, she soon discovers that she was wrong. From her first day, she discovers that the town is hiding secrets, secrets that she begins to uncover once she starts her new school. She learns that the pool of the school is haunted by Annaliese, and she is convinced Annaliese is behind the strange things that start happening. However, she needs proof, and getting the proof might require her losing her grip on the distinction between fantasy and reality. Can Rinn manage to figure out what's going on and keep everyone safe? More importantly, can she keep herself that way?
The Unquiet is one of my favorite kind of books - it crosses genres, blending a darker contemporary story with a ghost story, finishing it off with a dash of romance. Because of this, what would have been a good story became a great story. I found the parallel journeys very engrossing, both the journey through Rinn's mind that led to her eventual suicide attempt as well as her journey to uncover the secrets of her school. This book really captures the small-town feeling, and the connections that Rinn has to Annaliese and her family make the story that much more intense. Though this book isn't necessarily scary, as a ghost story, it does have its creepy moments. Compound that with Rinn's mental disorder, and there are more than a few instances that will leave you wide-eyed.
Of course, Rinn isn't alone in her quest to solve the mystery. Though she does have a few friends, her biggest help is Nate, the boy next door. He was just the friend Rinn needed, and I loved reading their interactions, from the snarky to the touching. This book was an intense read, to say the least, and I appreciated the lighter moments that Rinn and Nate brought to the story.
If you love a good ghost story, or a darker contemp story, then you will not want to miss this book. I look forward to seeing what Jeannine Garsee writes next!