"Waiting on" Wednesday is a weekly event hosted by Jill at
Breaking the Spine
that spotlights upcoming releases that we're eagerly anticipating.
This week's selection is: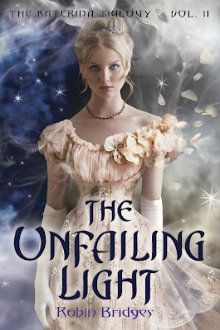 THE UNFAILING LIGHT
By: Robin Bridges
Published By: Random House Children's Books
Release Date: Oct. 9, 2012
Preorder the Book: Amazon
Note: This is book two of The Katerina Trilogy, and the summary may contain spoilers.
Goodreads Summary: Having had no choice but to use her power has a necromancer to save Russia from dark forces, Katerina Alexandrovna, Duchess of Oldenburg, now wants to forget that she ever used her special powers. She's about to set off to pursue her lifelong dream of attending medical school when she discovers that Russia's arch nemesis--who she thought she'd destroyed--is still alive. So on imperial orders, Katerina remains at her old finishing school. She'll be safe there, because the empress has cast a potent spell to protect it against the vampires and revenants who are bent on toppling the tsar and using Katerina for their own gains. But to Katerina's horror, the spell unleashes a vengeful ghost within the school, a ghost more dangerous than any creature trying to get in.
Why it's wanted:
I loved the first book in this trilogy, with its foreign setting, historical characters, magic, and love story. I can't wait to see what happens next!