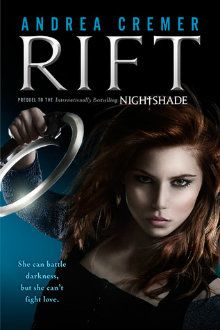 RIFT
By: Andrea Cremer
Published By: Philomel
Release Date: Aug. 7, 2012
Series: Nightshade Prequel (#1)
Pages: 413
Genre: Fantasy
Reading Level: Young Adult
Source: ALA
Buy the Book: Amazon
This book is a prequel to the Nightshade trilogy, which includes Nightshade, Wolfsbane, and Bloodrose. To see those reviews, click the name of the book. You do not have to have read Nightshade to read Rift.
Goodreads Summary: Chronicling the rise of the Keepers, this is the stunning prequel to Andrea Cremer's internationally bestselling Nightshade trilogy!

Sixteen-year-old Ember Morrow is promised to a group called Conatus after one of their healers saves her mother's life. Once she arrives, Ember finds joy in wielding swords, learning magic, and fighting the encroaching darkness loose in the world. She also finds herself falling in love with her mentor, the dashing, brooding, and powerful Barrow Hess. When the knights realize Eira, one of their leaders, is dabbling in dark magic, Ember and Barrow must choose whether to follow Eira into the nether realm or to pledge their lives to destroying her and her kind.

With action, adventure, magic, and tantalizing sensuality, this book is as fast-paced and breathtaking as the Nightshade novels.
It's no secret that I love Andrea Cremer's books. If you've read my reviews of the Nightshade trilogy books, you know that I think Andrea Cremer is brilliant and that her books are amazing. Rift was one of my most-anticipated books of 2012, and it did not disappoint.
Ember Morrow has been promised to Conatus after healers saved her mother's life during childbirth. Ember is excited to go - she would much rather fight than be subject to an arranged marriage. Her friend Alistair is there also, and she has missed him while he was at Conatus a year before her. But Ember never expected that her arrival at Conatus would cause such a stir, and she finds herself choosing her own path despite her father's wishes. She expects things to calm down, but that is before Barrow Hess himself becomes her mentor. Though Ember wants to learn from him and make him proud, she cannot help but have feelings for him. But he is her mentor, important at Conatus, and there are many more pressing issues. One of the leaders is dabbling in dark magic, threatening to destroy the world as they know it. Can she be stopped? And what will the fight mean for Ember and Barrow?
As much as I love the Nightshade trilogy, I think that Rift may have been even better, if that is possible. From the very first page I loved this book, and I loved it even more by the time I had finished reading it. Set in the fifteenth century, Rift is a wonderful blend of historical fiction and fantasy. The world is fascinating, and I loved the intersection of church and magic found at Conatus. Within this world is Ember, a strong character who brings the story to life. I enjoyed seeing her training and watching her grow into the person she was meant to be. But I have to admit that one of my favorite things about this book was Barrow. Barrow, with his skill with a sword and his handsome features, is most definitely swoon-worthy and now on my list of Top Five Book Boyfriends. I loved seeing his relationship with Ember develop from mentor/student into something much more. There are some very touching scenes between them, and I'm looking forward to seeing more in the next book.
The writing in Rift is brilliant, as always. Everything from the characters to the setting was incredibly vivid, drawing me into the story and making me forget everything else. I wanted to read this book in one sitting, but I forced myself to drag it out so that I would be able to enjoy it longer. My only complaint is that there is a wait until the next book!
If you haven't read any of Andrea Cremer's books, what are you waiting for? And if you have read Nightshade, you certainly won't want to miss Rift. I'm already counting down the days until the next book!