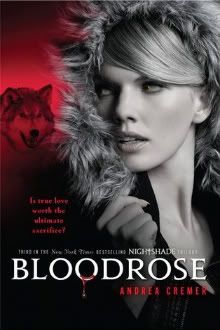 BLOODROSE
By: Andrea Cremer
Published By: Philomel
Release Date: Jan. 3, 2012
Series: Nightshade (#3)
Pages: 414
Genre: Fantasy
Reading Level: Young Adult
Source: Borrowed
Buy the Book: Amazon
Disclaimer: Summary may contain spoilers if you have not read
Nightshade
or
Wolfsbane
. To read those reviews, click on the links.
Goodreads Summary: The Ultimate Sacrifice.

Calla has always welcomed war. But now that the final battle is upon her, there's more at stake than fighting. There's saving Ren, even if it incurs Shay's wrath. There's keeping Ansel safe, even if he's been branded a traitor. There's proving herself as the pack's alpha, facing unnamable horrors, and ridding the world of the Keepers' magic once and for all. And then there's deciding what to do when the war ends. If Calla makes it out alive, that is.

In the final installment of the Nightshade trilogy, New York Times bestselling author Andrea Cremer creates a novel with twists and turns that will keep you on the edge of your seat until its final pages. A dynamic end to this breathtaking trilogy.
If you've read Nightshade and Wolfsbane, then you know how awesome this trilogy is. (If you haven't, go buy them and move them to the top of your to-read list.) I was thrilled when we had the chance to read the first chapter of Bloodrose early, and I knew from reading it that this book would be incredibly intense and just as amazing, if not more so, than the first two. And Bloodrose did not disappoint.
Bloodrose begins just after the events of Wolfsbane. I don't want to say too much and give anything away, but I will say this. Bloodrose follows Shay's quest to retrieve the Elemental Cross to use to defeat the Keepers. In this final installment, almost nowhere and no one is ultimately safe, and time is of the essence. And despite the battle raging around her, Calla still has to decide who will be the alpha at her side.
I know I have said this before in both reviews, but it bears repeating. Andrea Cremer is a genius. Perhaps an evil genius sometimes, but a genius nonetheless. All of these books are brilliant; the writing is excellent, utterly engrossing and captivating. Just like the others, Bloodrose was a book that I could not put down. You are constantly guessing and wondering what will happen next, and when the answer comes, it is never what you expected. As much as I love the main trio of this story, I also love the smaller characters. I especially enjoyed watching Sabine grow and change in this book. Despite the high stakes, there was no shortage of humor from Connor and Adne. There may have even been some new romances blossoming with the close quarters and dangerous missions...
And then there was the love triangle. There are scenes that made me sigh, scenes that made me swoon, scenes that made me want to yell, "Just pick him already!" Both the tension and the love were palpable. In the end Calla does make a choice...and I think I will leave it at that.
Bloodrose will make your jaw drop, will tear at your heart, and will make you laugh and cry. And for those of you who love the Nightshade world as much as I do, fear not - Andrea has plans to write not one but two prequels to the trilogy! I cannot wait to read more from her!